A favorite memory of my younger years as a Daughter of St Paul is the diocesan catechetical conventions where we would meet hundreds and thousands of volunteers and teachers dedicated to educating the next generations in the Faith. These wonderful, gifted, and generous women and men I will never forget. My heart was always full as we'd join together at Mass at the end of the day, often singing the popular hymn by Dan Schutte, "Here I am, Lord." Our voices would rise in a chorus of YES. Lord, we are here. We are here for you. We are here to be used by you. We are here to be used by you for others. We are ready and willing. We are HERE.
I was always so grateful to be among such generous Catholics as we drank from the source of life in order to become life in the world.
The rousing cheer "Here I am!" is rooted, in part, in today's first reading and responsorial psalm. Even though the story of Eli and Samuel in today's first reading is much more complex than the hymn would lead us to believe, there are four important lessons for our own life that we can learn from Samuel's response to the Lord, "Here I am. Speak, Lord, for your servant, is listening."
1. Our "Here I am" is more often a solitary commitment than a rousing hymn in community. Eli, the priest, was old. Samuel was just a boy. Eli's two sons were sinning against the Lord and would not listen to their father. Samuel was serving Eli, the priest in the temple. After several times being woken by the boy running to him and saying, "Here I am; You called me," the priest understood that it was God who was calling the boy. Eli sent Samuel back to sleep in the temple with the words, "Go to sleep, and if you are called, reply, 'Speak, LORD, for your servant is listening.'" No one knows the words that Samuel heard that night. His response to the Lord was his own. His response didn't depend on Eli or Eli's sons or anyone else in Israel. It was his and his alone to make. And so is ours.
2. Often our "Here I am. Speak Lord. I'm listening for your voice" happens in the night. The night, as in our reading, of the infidelity of the larger community. The night of solitude. The night of our unfamiliarity with the ways of the Lord. The night when God is leading his people through us into ways that are new. The night of a yes that claims our entire life in prophetic obedience to the Lord. We cannot make the outer situation an excuse for not answering the Lord as he calls you and me. It is these personal decisions upon which the health and holiness of the community ultimately depends.
3. We can help others understand the ways of the Lord, even if we ourselves aren't perfect. Eli understood the Lord was calling the boy, and he gave him a single piece of advice that helped Samuel make himself available to the encounter with the Lord. Eli told Samuel to say, "Speak, for your servant is listening." With that one simple sentence, he taught the young boy this stance before the Almighty: I am listening. I am ready. I believe you speak. I believe you have a plan that is good for me, for us. I am willing to submit my life to your plan. Even as Samuel grew in wisdom and grace as a prophet, even as Eli grew older and less influential, even as Eli's own sons were killed in punishment for their wickedness, I can imagine Eli continued to give pointers to Samuel on how to respond to God.
4. Our life has a purpose, a meaning, a vocation, that in some sense springs from our earliest communication with the Lord as a child and continues through our life. Biblically, we see this with the story of Moses, with Jeremiah, with John the Baptist. Only in hindsight can we see how God has led each of us in his ways. We each have an important part to play in the mystery of salvation, which overarches our world's history. We will stand, and we will fall and stand again. In our struggle to listen, to learn, to follow, to give ourselves over to the Lord, we carry out our vocation. Ultimately, however, it is the fidelity of the Lord that guarantees the fulfillment of his plan.
Today you may want to take a few quiet moments to take stock of your own, "Here I am, Lord. Speak, for your servant is listening." Maybe just for today, you will want to repeat these prayerful words over and over again as you open up your life once more to the plan of God for you: "Here I am, O Lord. Speak, for your servant is listening."
My point is this: if your family is not the epitome of harmony, take heart. God specializes in redeeming messes. See yours as an opportunity for God's grace to become visible to your loved ones and pray hard that God will make it happen.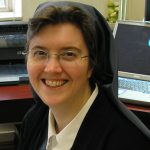 Kathryn James Hermes, FSP, is the author of the newly released title: Reclaim Regret: How God Heals Life's Disappointments, by Pauline Books and Media. An author and spiritual mentor, she offers spiritual accompaniment for the contemporary Christian's journey towards spiritual growth and inner healing. She is the director of My Sisters, where people can find spiritual accompaniment from the Daughters of St. Paul on their journey.
Website: www.touchingthesunrise.com
Public Facebook Group: https://www.facebook.com/groups/srkathrynhermes/
For monthly spiritual journaling guides, weekly podcasts and over 50 conferences and retreat programs join my Patreon community: https://www.patreon.com/srkathryn.