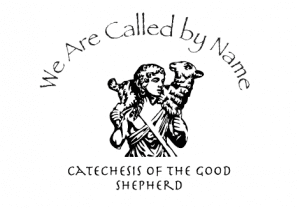 Coming to St. Mary Religious Education and Pre-School Fall 2021!
Catechesis of the Good Shepherd is a Pre-K religious experience utilizing primary values of contemplation and enjoyment of God. This experience is shared in a place particularly prepared for the religious life of children called the Atrium and allows for exploration and growth in relationship with God. Catechesis of the Good Shepherd began more than 50 years and began in Rome by Sofia Cavalletti and Gianna Gobbi. The program is used by the school and the religious education students, ages three through six. The "Catechesis of the Good Shepherd," which is approved by the Diocese of Lansing, encourages wonder as the child searches and learns who the Good Shepherd is and how he discovers the lost sheep.
The space where the children learn is called an atrium, and it focuses on the use of beautiful and real materials. To achieve this authentic space for our children, we need your help. Please consider sponsoring an element of the atrium or donating a physical component of the space. See sponsorship opportunities below.
Registration
If you would like to register for CGS, please register here. Please make an account for yourself and your child, so we can keep track of their progress!
You can help make the atrium a reality!
Contact Sarah Salow at ssalow@stmarypinckney.org to learn more and volunteer. All levels of skill are needed. Thank you!