Mass Times
Weekend Mass:
Saturday: 5:00 pm
Sunday: 9:00am & 11:30am
View All
How to Know what God Wants
The Healing Christ Wants for Us
What is Proposal 3? What could happen
Fr. Dan Homily Archive
Humility, prayer and Proposal 3 - Deacon Kevin Wiley
Join our Flock!

We are excited to have our new communication tool, and simple way to register at St. Mary!
You can either text to join, with the code on the left, or fill out this form to register!
Prayer Ministry for Inner Healing
We are all in need of healing. God desires to heal us. We are excited to offer in depth healing sessions by those trained by the JP II Healing Center. Please go here to sign up for this opportunity!
Enthronement of Jesus in the Home:
Click here to learn how to prepare for the Enthronement of Jesus in your  home and the 7 days of prayer.
Bringing Jesus to the Center of each Family
    Looking for ways to learn about the Faith at home? Bring Jesus and the saints into your home by visiting this page.
What's new at St. Mary?
We are launching the Catechesis of the Good Shepherd! CGS focuses on the contemplation and enjoyment of God. Check out this link to learn more about the basics of the Catechesis of the Good Shepherd! We want to help our little ones grow and foster an appreciation for God at a young age!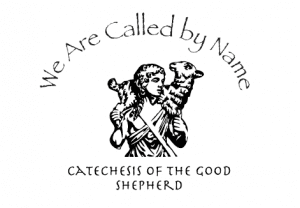 At St. Mary, we offer a family catechesis program. Please go to our Faith Formation tab to learn more!
Eucharistic Adoration Chapel
The Adoration Chapel is available 24/7 for prayer before the Eucharistic Lord, always present in the Tabernacle.
 Wednesdays and Thursdays from 9AM- 9PM , Jesus is exposed in the Monstrance on the altar.
Call/text Donnamarie 517-861-1933, if you wish to increase our regular weekly hours.
For those who cannot commit to a regular weekly hour, we offer a signup link (below) for the current month/season
https://www.signupgenius.com/go/10C0F45ADA828A3FB6-exposition

Here in Livingston County, we have many   resources to help a woman facing an unexpected pregnancy! The first and best place to direct a woman in need is to Pregnancy Help Clinic here in Brighton, www.pregnancyhelpclinic.com. The Clinic   offers ultrasound, referrals for prenatal care, and most importantly a mentoring program in which women receive support, education, and material goods during pregnancy and until their child turns three.  For a comprehensive community resource list, please visit the   Livingston County Catholic Charities  website, www.livingstoncc.org/walking-with-moms/
Calendar
November 29, 2022

Social Service Group Mary Conf. Rm Reserved

November 13, 2022 - December 30, 2022
Mary Conf. Rm

Small Group

November 29, 2022 12:00 pm - 1:00 pm
Mary Conf. Rm.

Liturgy of the Hours

November 29, 2022 6:30 pm - 7:00 pm
Church

Mass

November 29, 2022 7:00 pm - 7:30 pm
Church

Holy Hour & Confessions

November 29, 2022 7:30 pm - 8:30 pm
Church
To the parents of young children:

Quietly Explain the parts of the Mass and actions of the priest, musicians, ushers, etc.
Consider sitting toward the front where it is easier for your little ones to engage.
God put the wiggle in children-don't feel you have to suppress those wiggles in God's house.
Sing the hymns, pray and voice the responses. Children learn behavior by mimicking you.
If you have to leave the worship space with your child, feel free to do so, but please come back. As Jesus said, "Let the children come to me."