Mass Times
Weekend Mass:
Saturday: 5:00 pm
Sunday: 9:00am & 11:30am
View All
Father Dan's thoughts - Be a lamp!
Stations of the Cross
Spiritual Communion
Kogut's Corner
March 22nd, 2020
Bringing Jesus to the Center of each Family
Looking for more videos, resources, and updates? Stay connected with St. Mary by visiting this page.
Daily/Sunday Mass
St. Mary will livestream Mass via Facebook each day. You do not need a Facebook page to watch! Visit: https://www.facebook.com/stmarypinckney/live/
Liturgy of the Word for Sunday Worship
March 29th, 2020 Liturgy of the Word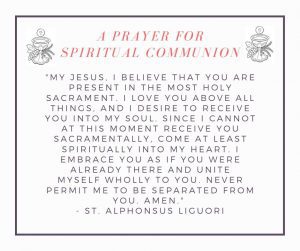 Letter from Father Dan
Greetings St. Mary Parish,
Peace be with you.
This has been a very challenging and tumultuous week. As you know, the Bishop has decided to suspend all public masses until April 8th; I hope you had a chance to read his letter. Please continue to pray for him and all of our leaders, both in the Church and in the government, as they seek the good of those in their charge.
I want to reassure you that while the public celebration of mass has been suspended, every priest will continue to offer the Holy Sacrifice of the Mass each day for the salvation of the world and for the designated intention (the one in the bulletin). I also want to reassure you that, while corporate prayer has been suspended, prayer itself has not been cancelled. In fact, we need to be praying now more than ever; we need to be interceding for the Church and the world, for those bound by fear, sickness, isolation, and for all who are working to care for the sick. I want to encourage you to pray the stations of the cross, the liturgy of the hours, the rosary, and to make frequent spiritual communion during this time. This is a moment to lean on our hope in Christ and find the peace and joy that comes from our relationship with Jesus. Let the world see the difference that Jesus makes in your life!
The Bishop has asked that churches remain open for private prayer. As things have been changing so rapidly, please keep up to date with our open hours through the parish website; stmarypinckney.org. For now, we will continue to have the adoration chapel open 24-7, (call the parish office if you need the code) and the church itself will be available to you during normal business hours (8 am to 4:30 pm). Confession will be available for now by appointment; the details on this will be forthcoming, but perhaps drive through confessions are not just a joke after all.
On our website, there will be recordings from Sunday mass as well as Morning Prayer and the Chaplet of Divine Mercy, so that you can join us in prayer. I want to invite you to gather as a family each Sunday and pray together along with the mass. We will also offer resources for you to lead a liturgy of the Word in the home with your family. I want to invite you to take advantage of these unusual circumstances to increase your prayer life as a family. The core purpose of St. Mary Parish is to bring Jesus to the center of the life of each family; it seems the Lord is encouraging us toward this goal now more than ever.
I know that this is a time of uncertainty and struggle, so let's not forget the words of our Lord in John 16; "In this world you will have trouble, but take heart, for I have overcome the world." He has indeed overcome the world and will bring us through this time of trial. God's Word promises us that He is our refuge and hope and is with us always. Please know of my prayers for you and for your family and that I will stay in contact with you and am available to you. I am thinking of you and praying for you each day.
In Christ,
Fr. Dan
To the parents of young children:

Quietly Explain the parts of the Mass and actions of the priest, musicians, ushers, etc.
Consider sitting toward the front where it is easier for your little ones to engage.
God put the wiggle in children-don't feel you have to suppress those wiggles in God's house.
Sing the hymns, pray and voice the responses. Children learn behavior by mimicking you.
If you have to leave the worship space with your child, feel free to do so, but please come back. As Jesus said, "Let the children come to me."