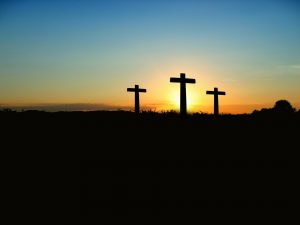 A Community of Missionary Disciples
As a parish family, we desire to have an authentic community life together that supports and encourages each other to follow Jesus through both the triumphant and burdensome realities of daily life. Scripture tells us that the early Christian community devoted themselves to "the breaking of the bread, and to prayers, to fellowship, and to the teachings of the apostles." (Acts 2:42) These things characterize our community as we pursue God's will for our parish.
This Christ-centered focus is what characterizes our life together as disciples of Jesus. We desire to come to know and love Jesus more personally and to do all that He has called us to do. We especially desire that Jesus will mold each of us into a more perfect image of His Divine love for others so that we may obey all of His commandments, but especially the Great Commandment, to "love one another as I have loved you." (John 13:34)
We understand that the Church does not exist for her own sake but that Jesus has given us the mission of inviting all to know and love Him. Having been transformed by the love of God, we seek to be missionaries who spread the Gospel with joy, inviting all people to encounter the One whom we love. As St. John has proclaimed to us, so we proclaim to all; "What was from the beginning, what we have heard, what we have seen with our eyes, what we looked upon and touched with our hands concerns the Word of Life- for the life was made visible; we have seen it and testify to it and proclaim to you the eternal life that was with the Father and was made visible to us." (I John 1:1-2)
Saint Mary Mission Statement
As disciples of Christ, we the people of St. Mary's in Pinckney, desire to model ourselves after Mary, the Mother of God, by opening our hearts wide to Jesus Christ the Redeemer of the world. We dedicate ourselves to faithfully following the Vicar of Christ on earth, through the shepherd of the diocese. Inspired by the Holy Spirit, we commit ourselves to spreading the teachings of Christ by: evangelizing the youth of our parish, providing a sound Catholic education to all, and reaching out with fellow Christians to the greater community in charitable and loving service. Our goal as a parish family is to strengthen our life together by focusing on prayers and the sacramental life of the Roman Catholic Church.