We are excited for the opportunities currently offered at St. Mary!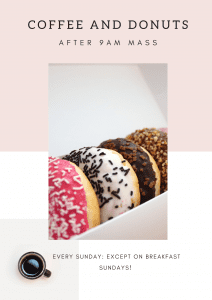 Sunday after 9am mass: Coffee and Donuts
Come join for some hot coffee and donuts, and enjoy community with our St. Mary family! Every Sunday after the 9am mass, except when we have parish breakfasts once a month.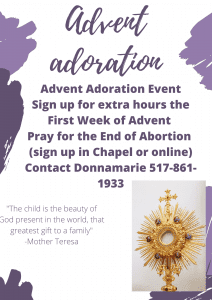 November 28  to  December 4: Advent Holy Hours to End Abortion 
Sign up now! Come join us in love, prayer, and support of life! You can make exposition available by signing up here! We will need 2 people to register per holy hour to have exposition hours. Let us pray for the graces need most, and for the mothers who graciously carry these children in their wombs. Sign up in advance to ensure there are exposition hours!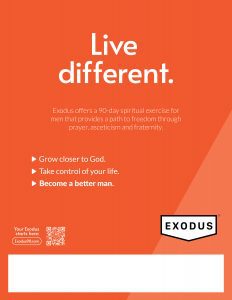 Coming Soon- Exodus 90
On Monday, January 17th, tens of thousands of men across the country and the world will embark on a 90-day journey to freedom. It is time to be set FREE! These 90 days are designed to train men in prayer, asceticism and fraternity.  No man can thrive without these three elements in their life.  Details coming this weekend.
Contact Tom Brundage at brundage.thomas@gmail.com or 734-972-6131 for more information.
September 27th 2021-2022: Fulfillment of All Desire Study
Year long study by Ralph Martin. This text is used to inspire and grow in our spiritual life and a deeper connection with the Lord and growing in holiness.
September 2021-summer 2022: That Man is You (TMIY)
Interactive men's program focused on the development of male leadership in the modern world. It combines the best research from science with the teachings of the Catholic faith and the wisdom of the saints to develop the vision of authentic men capable of transforming themselves, their families, and greater society. Meets every Saturday at 7:30am!