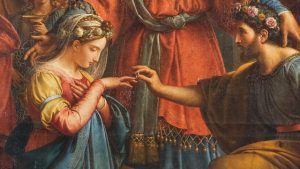 Congratulations on your engagement! We are so excited for you and the gift that your marriage will be to each other, our parish, and the world!
As soon as you get engaged, please contact the parish office at (734) 878-3161 or email Ron and Lisa Abbott at labbott24@hotmail.com with your information so we can get your marriage preparation under way. After meeting with our marriage prep coordinators, Ron and Lisa, we will be able to help determine a time/date for your wedding.
Ron and Lisa will review all of the information needed to complete the formation period to help you receive and give of yourself more fully in the sacrament of marriage.
Couples will also need to take a class online called "Love takes Learning," which is a communication tool, helpful during engagement and tools that you will use in marriage, too! Please use the link that Ron and Lisa send you, instead of just signing up independently, as we won't be able to verify that you've taken the class.
We are excited for the formation that is offered!