We've come to that point in time, the penultimate (second to last) Sunday of the Liturgical Year, when our readings for the day are all about the end of time. Death, destruction, doom and gloom . It might seem quite depressing at first glance, but the message is filled with hope.
I think the interesting thing with the readings this year is not what is said, but what is being addressed. The First Reading, from the prophet Malachi, is addressing the people's complaint that people who aren't serving God seem to be prospering, so why serve God at all if it doesn't seem to matter? Malachi is very clear in his response: "Lo, the day is coming, blazing like an oven, when all the proud and all evildoers will be stubble, and the day that is coming will set them on fire." But for those who obey the Lord, "there will arise the sun of justice with its healing rays." Moral of the story: God will prevail, but in God's time, not ours.
Then St. Paul must deal with the Thessalonian church, where the faithful have been expecting Jesus to return at any time. When that doesn't happen, their commitment to living as Christians starts to falter. Paul won't have it. "You know how one must imitate us," he starts out, later advising, "we wanted to present ourselves as a model for you, so that you might imitate us." Paul is not being arrogant, merely reminding these people that he has toiled to spread the Gospel and live in it, and they should, too. Keep busy in that, he says, and stop being busy bodies.
Jesus himself also covers Paul's line of thinking. You don't know when the coming of the Lord is going to happen, and people are going to try to exploit that. In fact, history tells us it has happened in every age, and continues today. "See that you not be deceived," our Lord tells his disciples, and us. Don't be terrified by current events, because they're going to happen. And even worse things will, too. There will be persecution of the faithful. As harsh as that seems, it is and will be true. But Jesus reminds us, good will come of it: "It will lead to your giving testimony." Trials and tribulations are our opportunity to spread the good news that Jesus came to give us. He himself "shall give you wisdom in speaking that all your adversaries will be powerless to resist or refute."
And yes, some of us will be put to death, or hated by all because of our faith in Jesus. But that end is, in fact, the beginning of an everlasting life in the presence of God and all his glory. "By your perseverance you will secure your lives," Jesus says, reminding us that life on this Earth is temporary. Develop your faith, keep the faith, live the faith, die in faith. The good stuff — the very glory of God — awaits us in heaven, glory and joy we can't even imagine. Hope in the Lord and trust in His ways!
---
Hemos llegado a ese punto en el tiempo, el penúltimo domingo del año litúrgico, cuando nuestras lecturas del día se tratan del fin de los tiempos. Muerte, destrucción, fatalidad y pesimismo. Puede parecer bastante deprimente a primera vista, pero el mensaje está lleno de esperanza.
Creo que lo interesante de las lecturas de este año no es lo que se dice, sino lo que se aborda. La Primera Lectura, del profeta Malaquías, aborda la queja de la gente de que las personas que no están sirviendo a Dios parecen estar prosperando, entonces, ¿por qué servir a Dios si no parece importar? Malaquías es muy claro en su respuesta: "Ya viene el día del Señor, ardiente como un horno, y todos los soberbios y malvados serán como la paja. El día que viene los consumirá". Pero para los que obedecen al Señor, "brillará el sol de justicia, que les traerá la salvación en sus rayos". Moraleja de la historia: Dios prevalecerá, pero en el tiempo de Dios, no en el nuestro.
Luego, San Pablo tiene que tratar con la iglesia de Tesalónica, donde los fieles han estado esperando que Jesús regrese en cualquier momento. Cuando eso no sucede, su compromiso de vivir como cristianos comienza a flaquear. Paul no lo acepta. "Ya saben cómo deben vivir para imitar mi ejemplo", comienza, y luego les dice que ha vivido de esa forma, "para darles un ejemplo que imitar". Pablo no está siendo arrogante, simplemente les recuerda a estas personas que él se ha esforzado para difundir el Evangelio y vivir en él, y que ellos también deberían hacerlo. Manténganse ocupados en eso, dice, y dejen de ser cuerpos ocupados.
Jesús mismo también cubre la línea de pensamiento de Pablo. No sabes cuándo ocurrirá la venida del Señor, y la gente tratará de explotar eso. De hecho, la historia nos dice que ha sucedido en todas las épocas y continúa hoy. "Cuídense de que nadie los engañe," dice nuestro Señor a sus discípulos y a nosotros. No te asustes por los acontecimientos actuales, porque van a suceder. Y cosas aún peores también lo harán. Habrá persecución de los fieles. Tan duro como parece, es y será cierto. Pero Jesús nos recuerda que de ello saldrá bien: "Con esto darán testimonio de mí."  Las pruebas y tribulaciones son nuestra oportunidad de difundir las buenas nuevas que Jesús vino a darnos. Él mismo dice, "porque yo les daré palabras sabias, a las que no podrá resistir ni contradecir ningún adversario de ustedes."
Y sí, algunos de nosotros seremos condenados a muerte, u odiados por todos debido a nuestra fe en Jesús. Pero ese final es, de hecho, el comienzo de una vida eterna en la presencia de Dios y de toda su gloria. "Si se mantienen firmes, conseguirán la vida", dice Jesús, recordándonos que la vida en esta Tierra es temporal. Desarrollen su fe, mantengan la fe, vivan la fe, mueran en la fe. Lo bueno es que la gloria misma de Dios nos espera en el cielo, gloria y gozo que ni siquiera podemos imaginar. ¡Espera en el Señor y confía en sus caminos!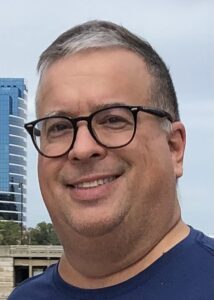 Mike Karpus is a regular guy. He grew up in Michigan's Upper Peninsula, graduated from Michigan State University and works as an editor. He is married to a Catholic school principal, raised two daughters who became Catholic school teachers at points in their careers, and now relishes his two grandchildren, including the older one who is fascinated with learning about his faith. He also has served on a Catholic school board, a pastoral council and a parish stewardship committee. He currently is a lector at Mass, a Knight of Columbus, Adult Faith Formation Committee member and a board member of the local Habitat for Humanity organization. But mostly he's a regular guy.
Feature Image Credit: geralt, pixabay.com/photos/heaven-clouds-cloud-shape-3335585/