We live in a "both/and" Church, rather than "either/or". Jesus is both true God and true man. Mary is both virgin and mother. We believe in Jesus' death and resurrection. The Church is both the spotless bride of Christ and still a human institution prone to human failings and weaknesses. 
Jesus presents another "both/and" in today's Gospel. "The behold, the Kingdom of Heaven is among you." And, "The days will come when you will long to see one of the days of the Son of Man, but you will not see it." How can the Kingdom of Heaven be among them yet they will long to see it? The disciples did not fully understand, and we are still living in this mystery today. 
At Mass, we experience a foretaste of the heavenly banquet. We are surrounded by the angels and saints who have gone before us and as we receive Christ, we are transformed more perfectly into His Mystical Body.  At that moment, we are living in the Kingdom of Heaven to the fullest extent we are capable of on this earth. Yet at the same time, we know that this earth is not our permanent home. We long for the day when suffering will cease, when we will be free of our sin and sorrow. We will finally come home to the joy and rest of the Father and the true lordship of the Son of Man. 
The world will try to call us away, to look here or there for the meaning of life. Jesus is reminding us that we already know where the Kingdom of Heaven is. It is by His side.
---
Vivimos en una Iglesia de "ambos/y", en lugar de "uno u otro". Jesús es verdadero Dios y verdadero hombre. María es virgen y madre. Creemos en la muerte y resurrección de Jesús. La Iglesia es tanto la novia sin mancha de Cristo como una institución humana propensa a las fallas y debilidades humanas.
Jesús presenta otro "ambos/y" en el Evangelio de hoy. "El Reino de Dios ya está entre ustedes". Y, "Llegará un tiempo en que ustedes desearán disfrutar siquiera un solo día de la presencia del Hijo del hombre y no podrán". ¿Cómo puede el Reino de los Cielos estar entre ellos y aún así anhelan verlo? Los discípulos no entendieron completamente, y todavía estamos viviendo en este misterio hoy.
En la Misa experimentamos un anticipo del banquete celestial. Estamos rodeados por los ángeles y los santos que nos han precedido y a medida que recibimos a Cristo, somos transformados más perfectamente en Su Cuerpo Místico. En ese momento, estamos viviendo en el Reino de los Cielos al máximo de lo que somos capaces en esta tierra. Sin embargo, al mismo tiempo, sabemos que esta tierra no es nuestro hogar permanente. Anhelamos el día en que cesará el sufrimiento, cuando seremos libres de nuestro pecado y dolor. Finalmente volveremos a casa al gozo y al descanso del Padre y al verdadero señorío del Hijo del Hombre.
El mundo tratará de distraernos para que busquemos aquí o allá el sentido de la vida. Jesús nos está recordando que ya sabemos dónde está el Reino de los Cielos. Está a Su lado.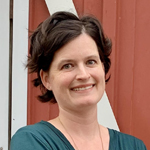 Kate Taliaferro is an Air Force wife and mother. She is blessed to be able to homeschool, bake bread and fold endless piles of laundry. When not planning a school day, writing a blog post or cooking pasta, Kate can be found curled up with a book or working with some kind of fiber craft. Kate blogs at DailyGraces.net.
Feature Image Credit: fauxels, www.pexels.com/photo/man-and-woman-holding-hands-3228726/