What was it about Jesus that drew people near to him? I guess the whole Son of God thing must have helped. But this is something I think about often as someone who wants to evangelize as best I can. If we are called to be like Christ then I think it is worth a ponder about what made people flock to Jesus. 
In today's Gospel, we hear that tax collectors and sinners were drawing near to Jesus. I don't think it's an accident that the Gospel for this past Sunday was Jesus inviting Zacchaeus to his house. Then a few verses later you have tax collectors and sinners hanging on his every word. Now, I know it's cliche to just say Jesus was present to them. We are present to plenty of people who don't want to talk to us or listen to what we have to say about God. But Jesus was present in a very specific way. He wanted to join in their day to day lives. 
Notice that when Jesus calls Zacchaeus he doesn't just tell him to repent and believe. He invites himself into his very life, into his family, into his house. He wants to engage with who Zacchaeus is as a person. Now, of course, the repent and believe line was coming, but first Jesus just wanted to get to know this tax collector. And it wasn't long before the other tax collectors started talking. 
I think about this a lot when it comes to Evangelization. I love cooking so I have been thinking about some ways that I can evangelize through the simple offering of food. We have Thanksgiving and Christmas coming up. What a perfect time to make a meal for your neighbor and invite yourself in. If for nothing else, you'll get to meet some great people. Even better, you may get to share the reason for the hope within you. 
I challenge you and myself this coming Christmas season, that instead of buying a boring generic gift for someone you barely talk to, this time make them a meal and get to know them. Invite yourself in as Jesus did, and you may be surprised that they want to invite your story in as well. 
From all of us here at Diocesan, God bless!
---
¿Qué tenía Jesús que atraía a la gente a él? Supongo que ser el Hijo de Dios debe haber ayudado. Pero esto es algo en lo que pienso a menudo como alguien que quiere evangelizar lo mejor que pueda. Si estamos llamados a ser como Cristo, entonces creo que vale la pena reflexionar sobre lo que hizo que tantas personas acudieran a Jesús.
En el Evangelio de hoy, escuchamos que los recaudadores de impuestos y los pecadores se acercaban a Jesús. No creo que sea casualidad que el Evangelio del domingo pasado sea sobre Jesús invitando a Zaqueo a su casa. Luego, unos pocos versículos más adelante, tienes a los recaudadores de impuestos y a los pecadores pendientes de cada una de sus palabras. Ahora, sé que es un cliché decir simplemente que Jesús estuvo presente para ellos. Estamos presentes para muchas personas que no quieren hablar con nosotros o escuchar lo que tenemos que decir acerca de Dios. Pero Jesús estuvo presente de una manera muy específica. Quería unirse a ellos dentro de sus vidas cotidianas.
Vemos que cuando Jesús llama a Zaqueo, no solo le dice que se arrepienta y crea. Se invita a sí mismo a su propia vida, a su familia, a su casa. Quiere comprometerse con quién es Zaqueo como persona. Ahora, por supuesto, la línea de arrepentirse y creer estaba por venir, pero primero Jesús solo quería conocer a este recaudador de impuestos. Y no pasó mucho tiempo antes de que los otros recaudadores de impuestos comenzaran a hablar.
Pienso mucho en esto cuando se trata de la evangelización. Me encanta cocinar, así que he estado pensando en algunas formas en las que puedo evangelizar a través de la simple ofrenda de alimentos. Se acercan el Día de Acción de Gracias y la Navidad. Qué momento perfecto para preparar una comida para los vecinos y auto-invitarte a entrar. Si no es por otra cosa, podrías conocer a algunas personas muy buenas. Aún mejor, puedes llegar a compartir la razón de la esperanza dentro de ti.
Te reto a ti y a mí mismo esta próxima temporada navideña, que en lugar de comprar un regalito genérico y aburrido para alguien con quien apenas hablas, esta vez prepárale una comida y conócelo. Invítete a ti mismo como lo hizo Jesús, y te sorprenderás de que ellos también quieran compartirte su historia.
De parte de todos nosotros aquí en Diocesan, ¡Dios los bendiga!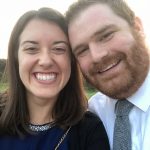 Tommy Shultz is a Business Development Representative for Diocesan. In this role he is committed to bringing the best software to dioceses and parishes while helping them evangelize on the digital continent. Tommy has worked in various diocese and parish roles since his graduation from Franciscan University with a Theology degree. He hopes to use his skills in evangelization, marketing, and communications, to serve the Church and bring the Good News to all. His favorite quote comes from St. John Paul II, who said, "A person is an entity of a sort to which the only proper and adequate way to relate is love."
Feature Image Credit: Jed Owen, unsplash.com/photos/EgG6wcsjFtE