Not only are we created in the image and likeness of God, we are to be imitators of Him who created us. 
God is love. Love is a creative force. Love cannot be withheld and turned inward. Love goes outward into the unknown. It does not bend or change for obstacles, but shines the light of truth on all it encounters. 
This is an awfully high standard for us human beings who are prone to protect and promote the self. We carry within us that darkening of our minds and weakening of our wills which makes it difficult for us to shine. We so easily become entangled and mired in our feelings and worry more about how unfair life is, than how we are called to uplift those around us. 
God knows this. Through the person of Jesus Christ, God has experienced our humanity and he understands us better than we understand ourselves. He hasn't left us alone. We have the Sacraments which make present and visible God's love in space and time, here and now. We just need to meet him there. Today's readings so poetically describe what we will know and be like when we choose to meet God in the Sacraments and through them, allow him to transform us into imitators of him. 
So let us frequent the Sacraments and allow God to work through them to instill his love in us so that we too can turn away from immorality, impurity, greed, suggestive or silly talk and bring God's kingdom to those around us through compassion, gratitude, and forgiveness. We can then truly live as the children of light. 
---
No solo somos creados a imagen y semejanza de Dios, debemos ser imitadores de Aquel que nos creó.
Dios es amor. El amor es una fuerza creativa. El amor no puede ser retenido y vuelto hacia adentro. El amor sale hacia lo desconocido. No se dobla ni se cambia por los obstáculos, sino que hace brillar la luz de la verdad en todo lo que encuentra.
Este es un estándar terriblemente alto para nosotros, los seres humanos que somos propensos a protegernos y promovernos a nosotros mismos. Llevamos dentro de nosotros ese oscurecimiento de nuestra mente y debilitamiento de nuestra voluntad que nos dificulta brillar. Fácilmente nos enredamos y atascamos en nuestros sentimientos y nos preocupamos más por lo injusta que es la vida, que por cómo estamos llamados a elevar a quienes nos rodean.
Dios sabe esto. A través de la persona de Jesucristo, Dios ha experimentado nuestra humanidad y nos comprende mejor que nosotros mismos. No nos ha dejado solos. Tenemos los Sacramentos que hacen presente y visible el amor de Dios en el espacio y el tiempo, aquí y ahora. Sólo tenemos que encontrarnos con él allí. Las lecturas de hoy describen tan poéticamente lo que conoceremos y seremos cuando elijamos encontrarnos con Dios en los Sacramentos y, a través de ellos, permitirle que nos transforme en imitadores suyos.
Entonces, frecuentamos los Sacramentos y permitamos que Dios obre a través de ellos para infundir su amor en nosotros para que nosotros también podamos alejarnos de la inmoralidad, la impureza, la codicia, las palabras sugerentes o tontas y llevar el reino de Dios a quienes nos rodean a través de la compasión, la gratitud, y la perdón. De esta forma podremos vivir verdaderamente como hijos de la luz.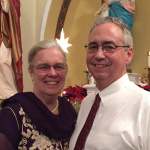 Sheryl is happy to be the number 1 cheerleader and supporter for her husband, Tom who is a candidate for the Permanent Diaconate in the Diocese of Kalamazoo. They are so grateful for the opportunity to grow together in this process. Sheryl's day job is serving her community as the principal for St. Therese Catholic School in Wayland, Michigan. Since every time she thinks she gets life all figured out, she realizes just how far she has to go, St. Rita of Cascia is her go-to Saint for intercession and help. Home includes Carlyn, a very, very goofy Golden Retriever and Lucy, our not-so-little rescue puppy. 
Feature Image Credit: J W, unsplash.com/photos/Ju-ITc1Cc0w