Do you think that I have come to establish peace on the earth?
The angels sang at Jesus' birth: "Glory to God in the highest and on earth peace to those on whom his favor rests" (Luke 2:14). When we celebrate the Feast of Christmas, the birth of the Incarnate Word, God-with-us, we depict it with beautiful nativity scenes, a lone star radiant in the peaceful night sky, simple shepherds worshipping the newborn King of kings and Prince of Peace laying in a manger. It is only those who participate at Mass on weekdays who immediately get plunged in division. Starting on December 26, the Mass celebrates a number of individuals who paid the price for their faith in Christ with their very life. Saint Stephen is martyred, the Holy Innocents are silent witnesses with their death to the birth of the Son of God, and Saint Thomas Becket who engaged in conflict with Henry II, King of England, over the rights and privileges of the Church is murdered by followers of the king in Canterbury Cathedral.
To be a disciple of Jesus is to be invited to martyrdom either through the giving of one's life for one's belief in Christ or through the living of one's life out of one's belief in Christ and adherence to his teaching. 
Do you think that I have come to establish peace on the earth? No, I tell you, but rather division.
This word of the Savior is foreboding. This division sets people against one another. It certainly is easy to brush this aside as we hear the examples given by the Lord himself: father against son and son against father, mother against daughter and daughter against mother and so forth. Someone who has followed her faith at the cost of acceptance within her own family, however, will not read those lines so glibly. I'm thinking of Saint Elizabeth Ann Seton. 
Elizabeth Ann Bayley was born in New York City to a prominent Episcopalian family on August 28, 1774. After seven happy years of marriage to William Magee Seton, her husband became very ill with tuberculosis. She travelled with him to Italy hoping to find a cure, but he died there in 1803. While in Italy, Elizabeth discovered Catholicism through the kindness of friends who offered her comfort as she grieved her husband's death, inviting her to Mass with them. A year later in New York, Elizabeth officially converted to Roman Catholicism. Her choice to convert resulted in three years of financial struggle and social discrimination. She opened a boarding house for boys, but when the students' parents discovered that she was Catholic, they removed their sons from her house. Two years later, she was invited to move to Baltimore with her family and to open a school for girls. Women began to join her work and, after moving to Emmitsburg, Maryland, she founded the Sisters of Charity of St. Joseph, the first congregation of women religious in the United States. 
Do you think that I have come to establish peace on the earth? No, I tell you, but rather division.
Each of us is called to this living martyrdom, for the Lord we follow died, out of amazing love for us, on the Cross. We are worth that much in God's eyes that he calls us to a heroic living (and sometimes dying) in imitation of our Savior. This division to which Jesus calls us may be as simple as not contributing to slander or it may be as consequential as walking away from a potential financial windfall that is at the expense of some group "on the peripheries." It could be quiet decisions made in private or could entail very public statements. I think of Saint Francis of Assisi who renounced his wealth and his inheritance to follow the call of God to rebuild his Church. Summoned by his father before the Bishop to account for bolts of cloth he had sold for the poor, Francis famously removed his garments and gave them to his father saying, "Until now I have called you my father on earth. But henceforth I can truly say: Our Father who art in heaven."  Francis renounced the considerable wealth of his family to embrace the life of poverty and joy to which he was called.
Today you may wish to consider: Where does the division established by Christ cut through your career? Your relationships? Your life as a Christian? 
---
¿Piensan que he venido a establecer la paz en la tierra?
Los ángeles cantaron en el nacimiento de Jesús: "¡Gloria a Dios en el cielo, y en la tierra paz a los hombres de buena voluntad!" (Lucas 2:14). Cuando celebramos la fiesta de Navidad, el nacimiento del Verbo Encarnado, Dios-con-nosotros, lo representamos con hermosos belenes, una estrella solitaria que brilla en el cielo nocturno pacífico, simples pastores adorando al recién nacido Rey de reyes y Príncipe de Paz recostado en un pesebre. Son solo aquellos que participan en Misa entre semana los que inmediatamente se sumergen en la división. A partir del 26 de diciembre, la Misa celebra a un número de personas que pagaron el precio de su fe en Cristo con su propia vida. San Esteban es martirizado, los Santos Inocentes son testigos silenciosos con su muerte del nacimiento del Hijo de Dios, y Santo Tomás Becket, quien se enfrentó a Enrique II, Rey de Inglaterra, por los derechos y privilegios de la Iglesia es asesinado por seguidores del rey en la Catedral de Canterbury.
Ser un discípulo de Jesús es ser invitado al martirio, ya que sea dando la vida por la fe en Cristo o viviendo la vida por la fe en Cristo y la adhesión a sus enseñanzas.
¿Piensan que he venido a establecer la paz en la tierra? No, te digo, sino más bien división.
Esta palabra del Salvador es premonitoria. Esta división pone a las personas unas contra otras. Ciertamente es fácil dejar esto de lado cuando escuchamos los ejemplos dados por el mismo Señor: padre contra hijo e hijo contra padre, madre contra hija e hija contra madre y así sucesivamente. Alguien que ha seguido su fe a costa de la aceptación dentro de su propia familia, sin embargo, no leerá esas líneas con tanta ligereza. Estoy pensando en Santa Elizabeth Ann Seton.
Elizabeth Ann Bayley nació en la ciudad de Nueva York en el seno de una familia prominente episcopal el 28 de agosto de 1774. Después de siete años de un matrimonio feliz con William Magee Seton, su esposo se enfermó gravemente de tuberculosis. Viajó con él a Italia con la esperanza de encontrar una cura, pero se murió allí en 1803. Mientras estaba en Italia, Elizabeth descubrió el catolicismo gracias a la amabilidad de amigos que le ofrecieron consuelo mientras lloraba la muerte de su esposo, invitándola a Misa con ellos. Un año después, en Nueva York, Elizabeth se convirtió oficialmente al catolicismo romano. Su decisión de convertirse resultó en tres años de lucha financiera y discriminación social. Abrió un internado para niños, pero cuando los padres de los estudiantes descubrieron que era católica, sacaron a sus hijos de su casa. Dos años más tarde, la invitaron a mudarse a Baltimore con su familia y abrir una escuela para niñas. Unas mujeres comenzaron a unirse con ella en su trabajo y, después de mudarse a Emmitsburg, Maryland, fundó las Hermanas de la Caridad de San José, la primera congregación de mujeres religiosas en los Estados Unidos.
¿Piensan que he venido a establecer la paz en la tierra? No, te digo, sino más bien división.
Cada uno de nosotros está llamado a este martirio viviente, porque el Señor al que seguimos murió en la Cruz, por amor asombroso hacia nosotros. Valemos tanto a los ojos de Dios que nos llama a una vida heroica (y a veces a una muerte) a imitación de nuestro Salvador. Esta división a la que Jesús nos llama puede ser tan simple como no contribuir a la calumnia o puede ser tan importante como alejarse de una posible ganancia financiera inesperada dañando a algún grupo "en las periferias". Podrían ser decisiones tranquilas tomadas en privado o podrían implicar declaraciones muy públicas. Pienso en San Francisco de Asís que renunció a sus riquezas y a su herencia para seguir el llamado de Dios a reconstruir su Iglesia. Convocado por su padre ante el obispo para dar cuentas de los rollos de tela que había vendido para los pobres, Francisco se quitó la ropa y se la dio a su padre diciendo: "Hasta ahora te he llamado mi padre en la tierra. Pero desde ahora puedo decir con certeza: Padre nuestro que estás en los cielos". Francisco renunció a la considerable riqueza de su familia para abrazar la vida de pobreza y alegría a la que fue llamado.
Quizás podrías considerar hoy: ¿Dónde afecta tu vida profesional la división establecida por Cristo? ¿Tus relaciones? ¿Tu vida como cristiano?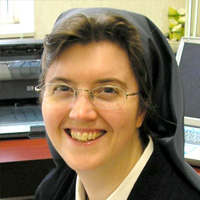 Sr. Kathryn James Hermes, FSP, is an author and offers online evangelization as well as spiritual formation for people on their journey of spiritual transformation and inner healing. Website: www.touchingthesunrise.com My Books: https://touchingthesunrise.com/books/
Public Facebook Group: https://www.facebook.com/groups/srkathrynhermes/ HeartWork Spiritual Formation Group: https://touchingthesunrise.com/heartwork/
Feature Image Credit: remehernandez, cathopic.com/photo/9804-oracio