I once read about someone who, instead of seeking attention, gifts, cards and cake on their birthday, chose to bring flowers and a special note to their mother instead. Why? Because that woman on that day labored in love to give birth. That woman on that day chose to give life instead of take it. That woman on that day began the difficult task of raising another human being for the foreseeable future. 
Today I celebrate 43 years of life outside the womb. Sure I will have my fair share of greetings and sweets, but my heart, as any mother's, is more focused on my children. I almost forget my birthday each year, as I am preceded by one son's birthday in September and another son's later this month. 
And although I am grateful for this life that God has given me, I cannot help but be saddened by what is happening throughout our country to destroy life. October is Respect Life Month, and we are in the midst of the 40 Days For Life prayer campaign. The abortion clinic that was shut down in my town, reopened due to a loophole in the law. Elections for pro-abortion laws are looming in the next few weeks. All I can do is pray, pray, pray, vote, and beg God for His mercy. 
In today's Gospel the Pharisee was amazed that Jesus did not wash before the meal. Jesus rebuked him. What good is it to have a clean body if the soul is not clean. "Did not the maker of the outside also make the inside? But as to what is within, give alms, and behold, everything will be clean for you." 
Hmmm, interesting. Instead of telling him to change his attitude and his focus, he told the Pharisee to give alms. Wait a minute…maybe he was telling him to change his attitude and his focus! Let's think about this for a moment. What happens to us when we give to others? We shift from an inward to an outward focus. We are giving instead of receiving. We are caring instead of falling into greed. Our Jesus is one wise God!
So as we all celebrate one more day (or one more year) of life, let us turn our attention outward. May we all make at least one intentional act to help another person today. And may we all continue to pray for God's mercy so that the right to life may be protected in our country. 
---
Una vez leí acerca de alguien que, en lugar de buscar la atención, los regalos, las tarjetas y el pastel en su cumpleaños, optó por llevar flores y una nota especial a su mamá. ¿Por qué? Porque esa mujer en ese día laboró con amor para dar a luz. Esa mujer ese día eligió dar la vida en lugar de quitarla. Esa mujer en ese día comenzó la difícil obra de criar a otro ser humano por el futuro previsible.
Hoy celebro 43 años de vida fuera de la matriz. Claro que recibiré lo suficiente en cuanto a saludos y dulces, pero mi corazón, como el de cualquier madre, está más centrado en mis hijos. Casi me olvido mi cumpleaños cada año, ya que me precede el cumpleaños de un hijo en septiembre y el de otro hijo a finales de este mes.
Y aunque estoy agradecida por esta vida que Dios me ha dado, no puedo evitar entristecerme por lo que está pasando en todo nuestro país para destruir la vida. Octubre es el Mes de Respeto a la Vida, y estamos en medio de la campaña de oración 40 Días por la Vida. La clínica de aborto que cerró en mi ciudad, reabrió debido a un detalle de la ley. Las elecciones a favor de las leyes a favor del aborto están por venir en las próximas semanas. Todo lo que puedo hacer es orar, orar, orar, votar y rogar a Dios por su misericordia.
En el Evangelio de hoy, el fariseo se asombra de que Jesús no se lave antes de comer. Jesús lo reprendió. ¿De qué sirve tener un cuerpo limpio si el alma no está limpia? "¿Acaso el que hizo lo exterior no hizo también lo interior?"
Muy interesante. En lugar de decirle que cambie su actitud y su enfoque, le dijo al fariseo que diera limosna. Espera un minuto… ¡tal vez le estaba diciendo que cambiara su actitud y su enfoque! Vamos a pensarlo. ¿Qué nos sucede cuando damos a los demás? Pasamos de un enfoque interno a uno externo. Estamos dando en lugar de recibir. Nos preocupamos en lugar de caer en la codicia. ¡Nuestro Jesús es un Dios sabio!
Entonces, mientras todos celebramos un día más (o un año más) de vida, dirijamos nuestra atención hacia afuera. Que todos hagamos al menos un acto intencional para ayudar a otra persona hoy. Y que todos sigamos orando por la misericordia de Dios para que en nuestro país se proteja el derecho a la vida.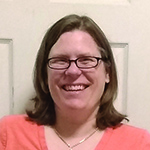 Tami Urcia grew up in Western Michigan, a middle child in a large Catholic family. She spent early young adulthood as a missionary in Mexico, studying theology and philosophy, then worked and traveled extensively before finishing her Bachelor's Degree in Western Kentucky. She loves tackling projects, finding fun ways to keep her little ones occupied, quiet conversation with the hubby and finding unique ways to love. She works at for Christian Healthcare Centers, is a guest blogger on CatholicMom.com and BlessedIsShe.net, runs her own blog at https://togetherandalways.wordpress.com and has been doing Spanish translations on the side for over 20 years.
Feature Image Credit: Towfiqu barbhuiya, unsplash.com/photos/0ITvgXAU5Oo