I read a really good reflection the other day by Dr. MaryRuth Hackett, who writes for Blessed Is She. It spoke about the suffering of another woman who was questioning why God would allow her to go through what she was going through, and how the response of a friend helped her change her perspective. Her friend reminded her that perhaps her own sufferings were in preparation for something yet to come, or simply to help her be there for others.
Dr. Hackett writes: "It is very difficult to have empathy if we lack experience. Even if we love someone deeply, it is impossible to walk the path of grief for example, if we have never experienced grief. We can sympathize, but we cannot empathize. We can witness and listen, but we lack a level of understanding."
This was truly helpful to me considering all we continue to go through with my son's health. It is so easy to question why a small six-year-old boy must endure this. It is so easy to get angry and become anxious.
Yet, what if these trials will later allow me to be there for someone else who is suffering? What if the suffering will make my son stronger or get him thinking about ministering to the sick as a doctor or a priest?
We do not know the big picture. We do not know the reasons. We can only trust, holding on to God for dear life during our wild ride on this planet.
I pray that somehow I may find the strength that the people of Macedonia had in today's First Reading, who "in a severe test of affliction, the abundance of their joy and their profound poverty overflowed in a wealth of generosity on their part." In the midst of their suffering, they found a way to be generous to others. I have no doubt they also praised God, just as Job had done during his time of great trial.
So, instead of getting stuck in a rut of anguish, I feel called to view this trial with a wider perspective. Just yesterday as I was talking with my husband he mentioned that my eight-year-old was now playing much more with his younger siblings, whom he didn't interact with much before. I also thought that since my ill son is very sensitive, this ordeal might grant him more strength of character to endure life's blows.
The end of the First Reading also grants comfort: "For you know the gracious act of our Lord Jesus Christ, that for your sake he became poor although he was rich, so that by his poverty you might become rich."
I have yet to comprehend what fruits or "riches" this trial may bring, but in the meantime, may God grant me the grace to exclaim with the Psalmist: "Praise the Lord, my soul!"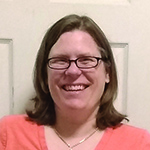 Tami Urcia grew up in Western Michigan, a middle child in a large Catholic family. She spent early young adulthood as a missionary in Mexico, studying theology and philosophy, then worked and traveled extensively before finishing her Bachelor's Degree in Western Kentucky. She loves tackling home improvement projects, finding fun ways to keep her four boys occupied, quiet conversation with the hubby and finding unique ways to love. She works at her parish, is a guest blogger on CatholicMom.com and BlessedIsShe.net, runs her own blog at https://togetherandalways.wordpress.com and has been doing Spanish translations on the side for almost 20 years.
Feature Image Credit: Johannes Plenio, https://unsplash.com/photos/2QUvkQTBh5s