We've all heard the axioms about giving: Be generous. It's better to give than receive. Do not let the right hand know what the left is doing. We must give of our time, talent, and treasure. 
And we do! We give gifts to others to celebrate special events. We donate to good causes. We buy the little trinkets or subscriptions or chocolate for our neighbor's fundraiser. We contribute to our parish and diocese.
But HOW do we give? Do we give immediately and generously? Do we sacrifice our own time to do good to another? Do we give of our talents even without repayment or recognition? Do we give from our surplus only? Do we give only after we have secured our own retirement, or our own wants, or our own savings account? These are not bad things to do, but today's readings make a point: TRUE GIVING is an act of love for another, and an act of trust that God will take care of us.
"A little with righteousness is better than abundance with wickedness," Raphael tells Tobit and Tobiah. Would you leave your dinner to get cold while you did something for someone else? Giving up their dinner in order to bury the dead brought down the blessing of healing on Sarah. In the Gospel, the widow who gave from what she actually needed had given more than those who gave only from their excess. It was her complete trust in the Lord's providence for her that allowed her to give what others might have held onto as "necessary" or even "prudent." And she did it in secret: no one saw this but Jesus. This is in contrast to the Scribes Jesus warns about: those who give publicly for public recognition, those who make a show of their praying or doing or giving so that others will praise them for their "goodness." It is not WHAT they give, but HOW they give it that makes the difference.
Essentially, if we give so that others will see our generosity, we make ourselves the recipient of our own "gift"! We are really doing it for our own benefit, and not only for the benefit of others, or for the Lord. But as today's Communion Antiphon reminds us, "Whoever loses his life for My sake will find it in eternity" (Mt 10:39). We are called to "lay down our lives," trusting in the Lord, by giving all we have and all we are in service and in praise to God.
Today, let's sit with the Lord and look at our giving to make sure it aligns with His glorious invitation to us: to offer our time, talent, and treasure for the good of others, without mixing in the need for recognition and without putting ourselves ahead of our gift.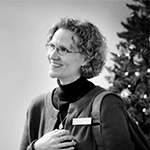 Kathryn Mulderink, MA, is married to Robert, Station Manager for Holy Family Radio. Together they have seven children (including newly ordained Father Rob and seminarian Luke ;-), and two grandchildren. She is a Secular Discalced Carmelite and has published five books and many articles. Over the last 25 years, she has worked as a teacher, headmistress, catechist, Pastoral Associate, and DRE. Currently, she serves the Church as a writer and voice talent for Catholic Radio, by publishing and speaking, and by collaborating with the diocesan Office of Catechesis, various parishes, and other ministries to lead others to encounter Christ and engage their faith. Her website is https://www.kathryntherese.com/.
Feature Image Credit: Tama66, https://pixabay.com/photos/fountain-water-flow-wet-3412242/