Today's First Reading tells a beautiful story of healing with a powerful and yet often-overlooked role player – the archangel Raphael. 
When it comes to the three archangels, Michael and Gabriel seem to get most of the attention. I mean, Michael's job is literally to defend us against Satan while Gabriel heralded the coming of the Messiah, the Son of God. But there is very little known about Raphael … until we turn to the pages of the Book of Tobit. 
The book's namesake, Tobit, had gone blind and suffered for years; however, he was not the only one in need of healing as a woman named Sarah had suffered many misfortunes at the hands of a demon. Both ultimately found themselves begging for death to end their respective plights. 
Enter the archangel Raphael, whose name means "God heals" or "Divine healer." To make a long story short, with the help of Raphael, Tobit sees again and Sarah is no longer tormented by a demon. What powerful works of healing!
Not only are the angels and archangels powerful intercessors for us in times of need but they show us the mighty works and wonders of God, who can heal every affliction of ours – great or small. 
We are all in need of healing in some way, shape or form. Maybe some of us need physical healing from an illness or injury like Tobit. Maybe we are in need of mental, emotional or spiritual healing like Sarah due to wounds of sin, our fallen human nature or other evils. Unlike Tobit and Sarah, though, we should not beg for death as an end to our suffering but, rather, have hope in our Lord Jesus who conquered sin and death, hope for healing. 
We certainly can – and should – pray to the angels, archangels and saints to intercede for our healing because who better to ask God on our behalf than the ones that are closest to Him in Heaven? But that also doesn't mean that we should stop praying and asking God for our own healing. After all, He is the Divine Physician and He wants to hear from His beloved sons and daughters.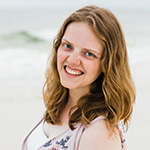 Erin Madden is a Cleveland native and graduate of Franciscan University of Steubenville. She is passionate about the Lord Jesus, all things college sports and telling stories and she is blessed enough to get paid for all three of her passions. You can catch her on old episodes of the Clarence & Peter Podcast on YouTube as well as follow her on Twitter@erinmadden2016.
Feature Image Credit: Diana Polekhina, https://unsplash.com/photos/SwWjCbIIoFE