I really enjoy Eastertime. It is really brought to life when we read the Acts of the Apostles every day! It also brings to life what they did and what we should be doing. A couple of verses before today's readings in Acts people would bring their sick and lay them in the street hoping that at least Peter's shadow would fall upon them and they would be healed (and they were). Folks, is that great or what? 
It is no wonder then that the Sadducees  became jealous of those involved and threw them in prison. We know that the Lord had a different plan for them. That day, an Angel let them out. They went to the temple and did exactly what they were told to do, preach the Good News. 
Have you or I ever failed to do what God has asked us to do? For me, I would have to say yes. There are two ways to solve a problem like this: humanly or spiritually. We are confronted every day with a myriad of problems, some big and some small. But we need to make decisions on every one of them. I am reminded of a time a few years ago. A coworker came into my office and was perplexed as to what color to paint his house. He and his wife had gone through many color chips and just couldn't agree on a color. I asked him if he had prayed about it. "What?!" he said. "God doesn't give a rip about what color my house is!" "Not true", I said. "He does care. He cares about everything." He replied with something like, "Whatever!" then threw his hands up in the air and walked out. I never did hear how that turned out. 
I entered the business world knowing nothing about the business world. It was very stressful to say the least. Little by little I learned that saying a short prayer before jumping in on something really made a difference. 
We have hundreds of thoughts going through our minds every day. We have plenty of opportunities to ask the Lord what would be most pleasing to him. Let us remember the apostles. The world told them to stop…and God told them to go! You may say, well, they had an Angel to help them! So do you. Your Guardian Angel. Put him to work! He will help you to do the right thing. 
Serving with joy!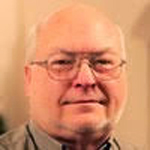 Deacon Dan Schneider is a retired general manager of industrial distributors. He and his wife Vicki recently celebrated their 50th wedding anniversary. They are the parents of eight children and twenty-nine grandchildren. He has a degree in Family Life Education from Spring Arbor University. He was ordained a Permanent Deacon in 2002.  He has a passion for working with engaged and married couples and his main ministry has been preparing couples for marriage.
Featured Image Credit: Ralph, Skirr, https://unsplash.com/photos/5WWkAYZgw7U