I have always found it hard to pray. To find the words. And so recently I have become invested in studying the Psalms, as the Psalms give the words and prayers bestowed to us by God Himself. How moving in particular is today's Psalm, which strikes such a chord deep in our hearts!
Ps 22:1 My God, my God, why have you forsaken me? Why are you so far from saving me, from the words of my groaning?
In today's reading, we should note that just before Psalm 23, undoubtedly the best known of all the Psalms, is Psalm 22. 
I recognize now that Psalm 22 and Psalm 23 are complementary. 
Christ experienced to the very fullest both the human suffering of Psalm 22 and the love, peace and security of His Father in Psalm 23. Today's Gospel notes the striking of the shepherd so that the sheep will be dispersed, but just after reminds us to not have our faith be shaken. It is through the difficult times that God can make his glory most magnified.
I attended a session this evening that reviewed the significance of hope. Particularly this year in the light of the Covid-19 pandemic. The speaker noted that the joys of Easter Sunday could not exist without first having the sorrow of the Passion. He also noted that the most common words of Christ in the Bible are to "Be not afraid". Today's readings remind me of the importance of steadfast prayer; to hold onto God through all times, both the good and the bad. It is because we are in darkness that we can strive to leap towards the light. The speaker also noted that the most common miracle Christ performed was in fact, curing the blind. This includes the physically blind but I would also think of all us who were spiritually blind in the dark. 
In further researching Psalm 22 and Psalm 23, I also came across quotes including, "
A more complete picture of Christ's work probably can not be seen anywhere else in the Old Testament." And another that noted Psalm 22, The Suffering Shepherd; Psalm 23, The Good Shepherd; Psalm 24, the Great Shepherd! How powerful that we come in a full circle from the readings of the Old Testament to that of the fulfillment of the New Testament through that of Christ's ultimate sacrifice and love for us, his precious sheep.
May the love of Christ be shown unto all during this most sacred week of the year. God bless you all.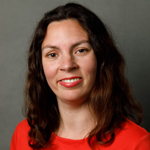 Dr. Alexis Dallara-Marsh is a board-certified neurologist who practices in Bergen County, NJ. She is a wife to her best friend, Akeem, and a mother of two little ones on Earth and two others in heaven above.
Feature Image Credit: Damir Spanic, https://unsplash.com/photos/BBERnAZGNYIutm_source=unsplash&utm_medium=referral&utm_content=creditShareLink