"Him whom the heavens cannot contain, the womb of one woman bore." St. Augustine of Hippo
In today's Gospel we hear the story of the Annunciation and Mary's "yes", her fiat, to becoming the mother of God, Theotokos, God-bearer. Mary is for us the ultimate example of giving one's life to Christ in humble obedience. She quite literally allowed Jesus to enter her body. 
It has always seemed strange to me that we celebrate the Annunciation so close to Holy Week, the week in which we enter deeply into the sufferings of Christ. Why do we celebrate the joy of the Annunciation so soon before Good Friday? After a lot of reflection, I realized that the Church, in her wisdom, imparts the joy of the Annunciation so close to the sorrow of the Crucifixion in order to remind us of the humility inherent in Christ's humanity. Christ became man, the Word became Flesh in order to save us from our transgressions. Christ came in order to conform with the Will of the Father. 
We hear in the second reading that, "…when Christ came into the world, he said 'Sacrifice and offering you did not desire, but a body you prepared for me; in holocausts and sin offerings you took no delight. Then I said 'As is written of me on the scroll, behold, I come to do your will, O God.'" Christ, like His mother, accepts the Will of the Father for the sake of all men. God humbled himself and, in order to do so, asked Mary to humble herself and accept His Will, which she did. When we remember Christ's humanity it makes us more able to enter into his Passion and Death because we are able to understand the emotions and imagine the pain He endured. It is through Christ's humanity that we are healed and the Annunciation, Mary's fiat, is the "yes" that allowed God to enter this world as fully God and fully man. 
As we near the end of this Lenten season, prepare for Holy Week, and look forward to the Resurrection of Christ, may we, taking the example of Mary, allow Christ to enter our hearts. May our "yes!" be proclaimed without hesitation. May we walk humbly with our God on His road to Calvary and may we humbly accept His will in our lives.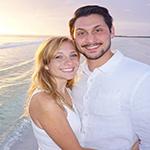 Dakota currently lives in Denver, CO and teaches English Language Development and Spanish to high schoolers. She is married to the love of her life, Ralph. In her spare time, she reads, goes to breweries, and watches baseball. Dakota's favorite saints are St. John Paul II (how could it not be?) and St. José Luis Sánchez del Río. She is passionate about her faith and considers herself blessed at any opportunity to share that faith with others. Check out more of her writing at https://dakotaleonard16.blogspot.com.
Feature Image Credit: janeb13, https://pixabay.com/photos/the-annunciation-leonardo-da-vinci-1125149/