In today's Gospel we hear of a poor widow who gives everything she has – two small coins – to the treasury. Although wealthy people gave more than two coins, Jesus says that the poor widow put in more than anyone else because she gave from her poverty rather than from surplus. Regarding what we are called to give, Pope Francis says, "Faced with the needs of others, we are called to deprive ourselves of essential things, not only the superfluous; we are called to give the necessary time, not only what remains extra; we are called to give immediately and unconditionally some of our talent, not after using it for our own purposes or own group". Christ and the Church are not concerned with monetary generosity. Rather, they are concerned with generosity of the heart. When we give of our time, treasure and talent, are we giving that which is extra or are we, like the poor widow, giving our whole selves, our whole livelihoods? We are called to love one another as Christ loved the Church. Christ gave His life for the Church, so, in the same way, we are called to lay down our lives out of love for Him and His Church. That means something different for all of us. For some of us, it is religious life. For others it may mean working for the Church in lay ministry. And for others it means loving our families – our husbands, wives, children, siblings, and parents – and helping them on the path toward Heaven.
How fitting for today's Gospel that we celebrate three saints – St. Clemente I, St. Columban, and Bl. Miguel Agustín Pro – who like the poor widow in the Gospel gave their all to the Church. St. Clemente I was an early pope who was martyred by being tied to an anchor and thrown off a boat into the Black Sea. St. Columban dedicated his life to Christ and the Church through the monastic life. Bl. Miguel Agustín Pro, like St. Clement I, was martyred. He was martyred in Mexico in the early 20th century. These three saints are examples of the ways in which we strive to dedicate our lives to Christ and the Church.
As we enter into this holiday season of thanksgiving and gift-giving, may we remember the one who gave His all in forgiveness of our sins.
"…since we are travelers and pilgrims in this world, let us think upon the end of the road, that is our life, for the end of the way is our home…Many lose their true home because they have greater love for the road that leads them there. Let us not love the road rather than our home, in case we should lose our eternal home, for our home is such that we should love it."  (from St. Columban "The True Meaning of Our Whole Livelihood")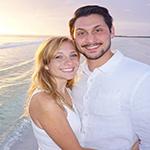 Dakota currently lives in Denver, CO and teaches English Language Development and Spanish to high schoolers. She is married to the love of her life, Ralph. In her spare time, she reads, goes to breweries, and watches baseball. Dakota's favorite saints are St. John Paul II (how could it not be?) and St. José Luis Sánchez del Río. She is passionate about her faith and considers herself blessed at any opportunity to share that faith with others. Check out more of her writing at https://dakotaleonard16.blogspot.com.
Feature Image Credit: asma Alrashed, https://unsplash.com/photos/2ilpjYv8gXo