A couple weeks ago I was having a conversation with a coworker about how hard it is sometimes to pull even one positive, uplifting comment from the Sunday Gospel. Some of them tend to be a little more gloom and doom. Today's readings are the exact opposite and they happen to be some of my favorites.
Listen to this: "…the Lord of hosts will provide for all peoples a feast of rich food and choice wines, juicy, rich food and pure, choice wines." I love how the prophet Isaiah takes the time to use descriptive adjectives. "Rich" and "choice" were not enough, he had to go on to say "juicy" and "pure". Now, I don't know about you but I. Love. Food. So just reading these words has my mouth is watering already!
But he doesn't stop there, he goes on to proclaim even more profound truths: "…he will destroy death forever. The Lord God will wipe away the tears from every face…" In my book, this one reading alone is enough to drive every last inkling of gloom and doom away!
Psalm 23 prolongs the beautiful imagery. "The Lord is my shepherd; I shall not want. In verdant pastures he gives me repose; beside restful waters he leads me…" Today provides a perfect opportunity to sit with these words in the quiet and simply bask in God's goodness.
Maybe our life is in fact looking a little gloomy. Maybe our table has the same things on it over and over again, a far cry from a feast. Maybe our day to day reality resembles enclosed walls more than verdant pastures. Maybe the noise of our children or our work place or our own thoughts reminds us of a bursting dam more than restful waters.
If that is the case, I hope this one phrase brings you comfort: "…and I shall dwell in the house of the Lord for years to come." Yes! This earthly life is not the end! We were created for our heavenly home.
I think our Second Reading gives us a good tip for experiencing that joy that we long for in the meantime. "I know how to live in humble circumstances; I also know how to live with abundance…God will fully supply whatever you need…"
In the end, it doesn't really matter whether we are rich or poor, happy or sad, warm or cold, but rather that we have the Lord. Although sometimes it seems we may ask and ask for our "needs" to no avail, God knows our hearts and provides for what we truly need.
So I invite you to purposefully seek out a few moments of silence today to let these inspirational readings enrich you. May they cause you to fall deeper in love with our amazing God.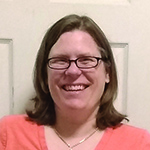 Tami Urcia grew up in Western Michigan, a middle child in a large Catholic family. She spent early young adulthood as a missionary in Mexico, studying theology and philosophy, then worked and traveled extensively before finishing her Bachelor's Degree in Western Kentucky. She loves tackling home improvement projects, finding fun ways to keep her four boys occupied, quiet conversation with the hubby and finding unique ways to love. She works at Diocesan, is a guest blogger on CatholicMom.com and BlessedIsShe.net, runs her own blog at https://togetherandalways.wordpress.com and has been doing Spanish translations on the side for almost 20 years.