"Herod the tetrarch heard about all that was happening,
and he was greatly perplexed…
…And he kept trying to see him."
This line always makes me chuckle. I understand there was no possibility of connecting with Jesus on Zoom in first century Palestine. Herod couldn't jump in the car and drive over to an evening seminar. Or follow Jesus on Facebook or Twitter. But, really, it couldn't have been that hard for Herod to catch up with Jesus to see him.
If, that is, the king really wanted to be seen by Jesus.
Hearing others talk about Jesus. Thinking about him. Reading about the spiritual life. Attending a Bible study or book club. All these things are wonderful and can be important aspects of one's spiritual journey. They are ways in which Jesus draws us closer to him, and begins to unify our flighty and fidgety senses and distracted thoughts around his gaze where we bask in a love we could never imagine.
Perhaps Herod was hoping to meet Jesus in order to prop up his own power and protect his own authority. He wasn't really hoping to encounter Jesus in the way Zacchaeus did, or the Magdalene, or Peter, or the lepers. So maybe he didn't try that hard. These others were men and women who had the desire and the capacity to enter into a sustained relationship with Jesus that was prolonged and deepened through time, that changed their lives, that taught them that indeed life comes and goes in the blink of an eye, as the Teacher and Ecclesiastes writes. The First Reading helps us reflect on life's repetitiveness, its elusiveness, the shortness of our days on earth, the way in which things slip through our fingers and in the light of eternity are but a whisper in the wind. And thus to treasure the gift of knowing the Lord and being known by him.
These readings rouse my sleepy and distracted heart. I don't want to be chasing vanities so that like Herod I miss out on the most important relationship that will be mine now and for all eternity. I want to see and be seen by the Lord.
In a world of enticing and exciting options for diversion and pleasure and power, our hearts have to be capable of true attention and concentration if we are not to get caught up in just trying to see Jesus. Simone Weil, the Jewish French philosopher saw this oneness of vision, the ability to keep our attention on one single task in the moment, as a spiritual practice. This practice gradually opens our deeper consciousness so that we learn to meet the gaze of Christ and live from his presence within. Here are four ways to unify the sometimes somewhat scattered way in which we pursue trying to see the Lord:
Find 20 minutes each day for meditation. Read the Bible or a favorite spiritual book to lead you closer to the Lord.
Practice doing one thing at a time. Put all your focus on what you are doing, staying in the present moment at least a couple times a day.
Find some time each week to unplug from social media and turn off your phone.
Ask Jesus what he'd like from you at this time in your life. Tell him that you want to see him.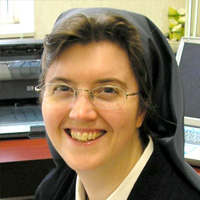 Kathryn James Hermes, FSP, is the author of the newly released title: Reclaim Regret: How God Heals Life's Disappointments, by Pauline Books and Media. An author and spiritual mentor, she offers spiritual accompaniment for the contemporary Christian's journey towards spiritual growth and inner healing. She is the director of My Sisters, where people can find spiritual accompaniment from the Daughters of St. Paul on their journey. Website: www.touchingthesunrise.com Public Facebook Group: https://www.facebook.com/groups/srkathrynhermes/ For monthly spiritual journaling guides, weekly podcasts and over 50 conferences and retreat programs join my Patreon community: https://www.patreon.com/srkathryn.