"It was fitting that she, who had kept her virginity intact in childbirth, should keep her own body free from all corruption even after death. It was fitting that she, who had carried the Creator as a child at her breast, should dwell in the divine tabernacles. It was fitting that the spouse, whom the Father had taken to himself, should live in the divine mansions. It was fitting that she, who had seen her Son upon the cross and who had thereby received into her heart the sword of sorrow which she had escaped in the act of giving birth to him, should look upon him as he sits with the Father. It was fitting that God's Mother should possess what belongs to her Son, and that she should be honored by every creature as the Mother and as the handmaid of God"
-St. John Damascene-
The quote above is long but I feel like this fully encompasses the beauty of the feast we celebrate today.
In today's Gospel we hear Mary's Magnificat: "My soul proclaims the greatness of the Lord; my spirit rejoices in God my Savior for he has looked with favor on his lowly servant." In carrying our Lord she is remarkably humble. She does not boast of her own merit but rather acknowledges herself as "his lowly servant" and praises God for giving her the grace to bear His Son. She knows oneness with Christ in a way we never will. She carried Him in her womb, taught him, and walked with Him during His Passion. It is for that reason that she did not suffer the pains of death and was assumed, body and soul, into Heaven. Since she was the first to be united with Christ in the flesh by His Incarnation, it is only fitting that should also be the first to be fully united with Christ, body and soul, in the Resurrection.
In the Apostolic Constitution Munificentissiumus Deus, in which Pope Pius XII defines the dogma of the Assumption, he says that he is "…confident that this solemn proclamation and definition of the Assumption will contribute in no small way to the advantage of human society…It is to be hoped that all the faithful will be stirred up to a stronger piety toward their Heavenly Mother…" In times of great suffering may we renew our devotion to our Heavenly Mother, for not only does her Assumption teach us about the Resurrection, but she also teaches us how to live our lives in unity with Christ while we are still on Earth.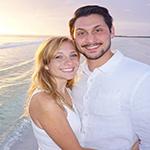 Dakota currently lives in Denver, CO and teaches English Language Development and Spanish to high schoolers. She is married to the love of her life, Ralph. In her spare time, she reads, goes to breweries, and watches baseball. Dakota's favorite saints are St. John Paul II (how could it not be?) and St. José Luis Sánchez del Río. She is passionate about her faith and considers herself blessed at any opportunity to share that faith with others. Check out more of her writing at https://dakotaleonard16.blogspot.com.