Yes, it is a Friday and today's Gospel is about the sabbath law. The Catholic Catechism refers to sabbath law directly in number 2173:
"The Gospel reports many incidents when Jesus was accused of violating the sabbath law. Jesus never fails to respect the holiness of this day. He gives this law its authentic and authoritative interpretation: "The sabbath was made for man, not man for the sabbath." With compassion, Christ declares the sabbath for doing good rather than harm, for saving life rather than killing. The sabbath is the day of the Lord of mercies and a day to honor God. "The Son of Man is Lord even of the sabbath" (Mt 12:8).
My focus has kept coming back to the dynamic of man imposing his will and interpretations on God's kingdom and God's law. We bicker and wage war about laws, institutional structures and rights while so many innocents suffer and are sacrificed. When does the realization occur that a paradigm shift must occur else the vicious cycle continues? When does mercy and love reign in our midst?

The Merriam-Webster dictionary defines mercy:
"1a: compassion or forbearance shown especially to an offender or to one subject to one's power : also : lenient or compassionate treatment : begged for mercy
b: imprisonment rather than death imposed as penalty for first-degree murder
2a: a blessing that is an act of divine favor or compassion : May God have mercy on us.
b: a fortunate circumstance : twas a mercy they found her before she froze
3: compassionate treatment of those in distress : works of mercy among the poor at the mercy of : wholly in the power of : with no way to protect oneself against"
Did any of the above definitions bring to mind current situations in the USA or internationally? The numerous challenges to our world are great: a global pandemic, racism, climate change and poverty have magnified the tremendous disparities in our communities and need for change.
I invite you to take the time to reflect and pray about what you are called to do to help provide a chance for a paradigm shift to occur. The alleluia verse says that we hear the Lord's voice; he knows us and we follow him. Are you able to hear and listen to the Lord's voice? Are you able to apply His voice to what is happening in your life today?
Please pray with me:
Creator Lord Jesus, I trust that your will be done in my life. Give me the eyes to see and the courage to do what you ask me to do for your kingdom on earth. Jesus, I trust in you. Jesus, I trust in you. Jesus, I trust in you. Amen.
Here are some readings to ponder.

I desire mercy
I have blind spots
Georgetown U: The Initiative on Catholic Social Thought and Public Life
Feeding America Impact
Covid-19 and Global hunger
Covid-19 and Immigration
Break the cycle of distraction
Can Catholics support black lives matter?
Covid-19 and disaster recovery workers
Covid-19 Who gets counted?
Parishioners 'show up' for racial justice work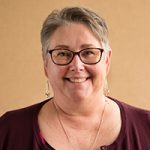 Beth is part of the customer care team at Diocesan. She brings a unique depth of experience to the group due to her time spent in education, parish ministries, sales and the service industry over the last 25 yrs. She is a practicing spiritual director as well as a Secular Franciscan (OFS). Beth is quick to offer a laugh, a prayer or smile to all she comes in contact with. Reach her here bprice@diocesan.com.