I often fail to give myself a break. I beat myself up for the smallest things, perseverating on my lack of holiness. If I make one tiny mistake it turns into a mountain. I worry about being unworthy, not being lovable, and ultimately feel discouraged about my journey to sainthood.
On this Solemnity of the Sacred Heart of Jesus, we have an opportunity to look to Christ and His constant mercy. How is it possible that God can have endless mercy to shower upon all of us? I know this is a question I cannot fully answer or understand, but what I do know is that God's Love is perfect and He is always there for us with His mercy, no matter what we may have done.
It is hard for me to accept this mercy from God, and it is even more difficult for me to show myself this mercy and love. I realize that I must show myself mercy if I am to grow in virtue. If I constantly put myself down it will be even harder to get back up on the road to holiness. If you are struggling to show yourself mercy invite God into these moments. With the help of God's mercy in His Sacred Heart, we can learn to love ourselves for God's glory and further trust in His perfect mercy.
"Trust the past to the mercy of God, the present to His love, and the future to His providence." –St. Augustine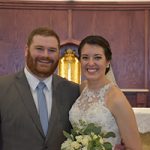 Nathalie Shultz is a joyful convert to the Catholic faith and a competitive swimmer with Obsessive Compulsive Disorder (OCD). She loves to share her passion for Catholicism with others, including her conversion story and how God continues to work miracles in her life through her OCD. She is the Director of Religious Education for the North Allegan Catholic Collaborative of parishes. Nathalie is married to her best friend, Tommy Shultz. Her favorite saints include St. Peter the Apostle, St. Teresa of Calcutta, and St. John Paul II. She is also a huge fan of C.S. Lewis. If you have any questions for Nathalie, or just want her to pray for you, you can email her at rodzinkaministry@gmail.com.