"'So then the Lord Jesus, after he had spoken to them, was taken up into heaven, and sat down at the right hand of God.' Christ's body was glorified at the moment of his Resurrection, as proved by the new and supernatural properties it subsequently and permanently enjoys. But during the forty days when he eats and drinks familiarly with his disciples and teaches them about the kingdom, his glory remains veiled under the appearance of ordinary humanity. Jesus' final apparition ends with the irreversible entry of his humanity into divine glory, symbolized by the cloud and by heaven, where he is seated from that time forward at God's right hand." -CCC 659
Have you ever been confused by the Ascension? God becomes a man and dies for our sins only to leave us here on this earth? I always struggled to wrap my mind around it. But this quote from the Catechism gives me such hope and joy.
See, Jesus came to die for our sins, but not only that. That's a reductionist view of what Jesus did for us if that is our only focus. As if that one moment of death was the epitome of his purpose. That's simply not giving God enough credit. We must look at his ENTIRE life and mission in order to see how deep his love really is for us.
At the fall we sinned against an immortal being, we could not pay back the hurt that was caused. The only possible hope for our fallen human nature is for God to take it on, dispel the bad, resurrect the good, and then bring it to his Father. That is precisely what he did. Salvation history doesn't stop with the crucifixion. It doesn't even stop with the resurrection. Jesus resurrected human nature through his power, but he still had to take his place at the right hand of God and bring human nature with him into divine glory.
He is the one mediator between God and man, as we hear in scripture. Our broken humanity is resurrected when he conquered sin and death, but then he brings humanity fully and irreversibly into divine glory through his ascension. Now for all eternity, Jesus sits next to the father to be a constant reminder that we have been redeemed.
There is a lot of talk that the end of the world is coming. I think fear has entered our hearts through the current pandemic and we start thinking and worrying about things that are outside of our control. Whether the end of the world is coming is not the question we should be trying to figure out. After all, we are told that nobody knows the time or place. What we should be concerned with is the gift God has given us through his ascension. He has taken our humanity into the depths of divine love. What is our response to that kind of action? Do we waste it with our time here on earth or do we thank him and live in joy and hope, longing for the day we join him?
This is a tough question to ask, but it's the one that needs to be answered in our hearts. Have we said yes to God and his gift? Or have we rejected the invitation into divine life? Let's pray that we all have the grace to one day ascend into our heavenly home, just as Jesus did. God Bless!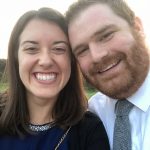 Tommy Shultz is Director of Evangelization for the North Allegan Catholic Collaborative and the founder of Rodzinka Ministries. In these roles, he is committed to bringing all those he meets into a deeper relationship with Christ. Tommy has a heart and a flair for inspiring people to live their faith every day. He has worked in various youth ministry, adult ministry, and diocesan roles. He has been a featured speaker at retreats and events across the country. His mission and drive have been especially inspired by St. John Paul II's teachings. Tommy is blessed to be able to learn from the numerous parishes he visits and pass that experience on in his presentations. With a degree in Theology from Franciscan University, Tommy hopes to use his knowledge to help all people understand the beauty of The Faith.