Remain in my love. That's all we can do (or try to do) right now, right?
At the time of writing and time of publication, we are coming up now on two months of quarantine. That's two months of working from home, two months of online distance learning for our children, and two months of not being able to see our family and friends, among other things.
Looking at it in other words, that's two months of solitude, pain, and heartache – let alone two months without the sacraments. Personal prayer feels like the least we can do – not the most we can do – during this time, but even that is a struggle. Remaining in God's love feels like a chore, but, hey, in this crisis, that's about all we can try to do.
There needs to be a shift in thinking, though. Remaining in God's love is not the only thing that we can do but, rather, it's everything that we GET to do through the freedom we have in Jesus Christ. In today's Gospel, Jesus reminds us of the great privilege and joy we get to have in following His commandments, particularly His commandment to "love one another."
Jesus simply lays it out at first, "If you keep my commandments, you will remain in my love," and uses Himself as an example – that He has kept the Father's commandments and so remains in His love. Jesus tells us about these commandments, what they are so that we can share in His joy when we choose to follow them (and Him) in freedom.
But then Jesus gets specific: "This is my commandment: love one another as I love you." If the way that Jesus loved us was to get up on the cross and die for our sins so that we can live forever in love with Him and the Father in heaven, how can we possibly love as Jesus loves? Seems impossible, right?
Jesus' love was self-sacrificial and still is. Meanwhile, I believe that the way we've loved the best during this time of quarantine is through a self-sacrificial lens. We've stayed in our houses to protect the elderly, those with pre-existing conditions, and the frontline healthcare workers (to name a few) – showing them love as well as support through self-sacrifice. In the same spirit, that's why we haven't visited our family and friends as we show them love, by protecting them and their health by not putting them at risk. Parents have been self-sacrificing out of love for their children by having to play an integral role in their education and so much more.
Having to abstain from the Eucharist, though, is a self-sacrifice as well, one that ultimately is increasing our love and longing for the Lord, which will have ramifications for the rest of our lives.
As we (hopefully) come to the close of this time of quarantine, let us remember the call to love one another as Christ has loved us so that we may remain in His love both now and forever.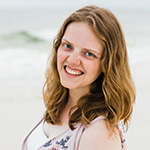 Erin is a Cleveland native and graduate of the Franciscan University of Steubenville. Following graduation, she began volunteering in youth ministry at her home parish of Holy Family Church. Her first "big girl" job was in collegiate sports information where, after a busy two years in the profession on top of serving the youth, she took a leap of faith and followed the Lord's call to full-time youth ministry at St. Peter Church. She still hopes to use her communication arts degree as a freelance writer and statistician, though. You can catch her on the Clarence & Peter Podcast on YouTube as well as follow her on Twitter @erinmadden2016.