We all need Mercy don't we? I am sure this is what Thomas was thinking after doubting the Lord during today's Gospel. I love the apostles because they are relatable. Here are men who walked with Jesus, saw him perform miracles, saw him literally die and rise from the dead, and still they don't quite get it. How often is that us? I know more times than not it is me.
We all need mercy. I love the scene in The Passion of the Christ where Peter denies Christ three times and Jesus looks back at him. You can feel the regret and shame in Peter's look. But Peter did not despair, he allowed God to give him mercy. If you need a little inspiration for this Divine Mercy Sunday I want to encourage two things as a reflection. The first is a beautiful song from Lamb of God where Peter sings about never denying Jesus.
Then from there listen to this video from a friend of mine, Aly Aleigha, who wrote a beautiful song about when Peter denies Christ.
Use these two songs as a starting point and then come face to face with Christ and his mercy on this beautiful Feast day. We have all fallen short, we have all made mistakes, we have all denied Jesus in one way or another. Today, Jesus reaches out. He let's us know that his love is always stronger.
Don't think Jesus can forgive you? Your sins are too big? You are too broken? I leave you with one of my favorite quotes from St. Claude de la Columbiere. God Bless you and give you his mercy.
"I glorify You in making known how good You are towards sinners, and that Your mercy prevails over all malice, that nothing can destroy it, that no matter how many times or how shamefully we fall, or how criminally, a sinner need not be driven to despair of Your pardon…It is in vain that Your enemy and mine sets new traps for me every day. He will make me lose everything else before the hope that I have in Your mercy."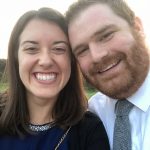 Tommy Shultz is Director of Evangelization for the North Allegan Catholic Collaborative and the founder of Rodzinka Ministries. In these roles, he is committed to bringing all those he meets into a deeper relationship with Christ. Tommy has a heart and a flair for inspiring people to live their faith every day. He has worked in various youth ministry, adult ministry, and diocesan roles. He has been a featured speaker at retreats and events across the country. His mission and drive have been especially inspired by St. John Paul II's teachings. Tommy is blessed to be able to learn from the numerous parishes he visits and pass that experience on in his presentations. With a degree in Theology from Franciscan University, Tommy hopes to use his knowledge to help all people understand the beauty of The Faith.