Holy Saturday. A day filled with so much anticipation. In just a mere few hours, Easter Vigils will begin all across the country. The waiting is over. The tomb is empty. Christ is risen; let us rejoice … although our celebrations will be more muted this year, due to the current COVID-19 pandemic.
There are those out there who assume that, because there is no public celebration of the Mass, that Easter just won't happen this year. Others may think that Easter is less significant this year, less important, less meaningful. Still, others will wonder if their churches will "push back" the celebration of Easter to the first available Sunday that parishioners are welcome through the doors.
Easter isn't canceled. Just because we can't physically gather in our Church buildings and receive the Body of Christ – the same Body of Christ that hung on the cross and the same Body of Christ that rose from the dead – doesn't mean that this great celebration won't take place. In fact, the Holy Sacrifice of the Mass offered on Easter might be more profound this year. Yes, priests offer up the sacrifice on our behalf at every single Mass but, this year, being the sole persons able to participate in (let alone offer up) the Holy Sacrifice of the Mass that celebrates the reward of that very same sacrifice of Jesus is just … kind of mind-blowing. The priests will celebrate the Mass on our behalf, just like they've been doing for the past, "I don't know how many" weeks. And they will continue to celebrate Mass on our behalf for the weeks to come.
Easter isn't any less meaningful this year. Jesus still rose from the dead. Jesus still saved us from the consequences of sin and death, reconciled us with God the Father, and gave us the promise of eternal life. All of these things and more are still important and still present to us, even in the midst of chaos.
And, unfortunately, Easter won't (and can't) be pushed back. Easter Sunday is an immovable feast day, which can't just be celebrated at a later time. Hopefully, we will still be in the midst of the Easter season when our local dioceses will resume public celebration of Masses. You may see some aspects of Easter incorporated in your church whenever that moment comes. Maybe there will be a Renewal of Baptismal Promises with a sprinkling rite during Masses like there would have been on Easter Sunday. Maybe all of the Easter lilies and other flowers will linger on the altar a little longer than normal.
I can assure you, though, that whenever the moment is – the church will be abuzz with unbridled Easter joy. That's what we have to hold on to during this crisis. There is a light at the end of the tunnel. Just like we have hope in the Resurrection, we will have our Easter morning.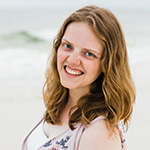 Erin is a Cleveland native and graduate of Franciscan University of Steubenville. Following graduation, she began volunteering in youth ministry at her home parish of Holy Family Church. Her first "big girl" job was in collegiate sports information where, after a busy two years in the profession on top of serving the youth, she took a leap of faith and followed the Lord's call to full-time youth ministry at St. Peter Church. She still uses her communication arts degree as a freelance writer and statistician, though. You can catch her on old episodes of the Clarence & Peter Podcast on YouTube as well as follow her on Twitter @erinmadden2016.