Today's Gospel Reading always reminds me of the song "This Little Light of Mine" that many of us learned as children. Jesus seems to be using a bit of sarcasm here. 'Seriously, people, you have this amazing truth within you, and you're just going to hide it away?' ("Hide it under a bushel, NO!") Place it on a lampstand! Proclaim it to the world! ("Let it shine! Let it shine! Let it shine!")
As I was praying the USCCB's novena, "9 Days For Life" this past week, I came across this simple line: "Smile. Ask God today for the grace to be extra joyful and to share the light of Christ with those most in need of His love and mercy." Such a simple concept but something as small as a smile can make a difference in someone's day. When we bite our tongue instead of letting that negative comment slip, when we compliment instead of criticizing, we are making our world a better place, one "little light" at a time.
Jesus goes on to say, "Take care what you hear."
"Whatever goes in must come out" does not only refer to our digestive system, but to our brains as well. The movies and shows we watch, the podcasts and music we listen to, and the news and blogs we read all impact our thoughts, words and actions. It is increasingly easy to become so overwhelmed by information, albeit, most of it negative, that we find ourselves becoming negative as well. The latest winter weather advisory fills us with worry. The latest conflict overseas fills us with anxiety. The latest tragedy fills us with sorrow. The latest injustice fills us with anger…
Where is the light in all of this? Where is our smile? It appears that the most logical solution is to do exactly what Jesus says: "Take care what you hear." Do we really need to know Congress's every move, or could we rather pay more focused attention to the needs of those around us each and every day? Do we really need to watch the newest war movie that is all the rage, or could we rather be more attentive to the war raging within our very being, inviting us to leave our unnecessary desires aside and deepen our relationship with our loving God instead?
Each and every time we make that effort to be more Christ-like, to go the extra mile to be kind, to not join in the gossip, to make a sacrifice for the good of another, we are promised ample reward. "The measure with which you measure will be measured out to you, and still more will be given to you." In other words, God will not be outdone in generosity. You give an inch and He gives you a mile.
So let's keep that beautifully simple song running through minds and hearts today. May our little lights shine so as to brighten the lives of those around us.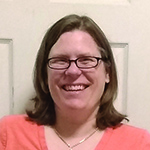 Tami grew up in Western Michigan, a middle child in a large Catholic family. She spent early young adulthood as a missionary in Mexico, studying theology and philosophy, then worked and traveled extensively before finishing her Bachelor's Degree in Western Kentucky. She loves tackling home improvement projects, finding fun ways to keep her four boys occupied, quiet conversation with the hubby and finding unique ways to love. She works at Diocesan, is a guest blogger on CatholicMom.com and BlessedIsShe.net, runs her own blog at https://togetherandalways.wordpress.com and has been doing Spanish translations on the side for almost 20 years.