When did you last go fishing? It's been many years since my last fishing expedition with my father. He used to take my siblings and me to the Grand Haven pier, where we used "cane poles" and bobbers, worms for bait. These were simple poles with no reels. We manipulated the lines with our fingers and spent hours watching the bobbers on the water: up-down-up-down-up-down. It was mesmerizing. It was also very dull until a fish finally took the bait, and the bobber would disappear under the surface of the water. Then the fun began pulling it in and placing it in the creel. After another worm on the hook, tossed out off the pier and, once again, up-down-up-down, and so one. Fishing is supposed to be a relaxing activity. For kids, not so much. But then I think back on it now, how I would love that time of peaceful waiting until the next excitement of a fish caught.
I'm sure it was not always so peaceful for Simon, Andrew, James, and John. Fishing was their livelihood. The waiting could be excruciating, as fish caught meant money and food; empty nets meant continued poverty. And the mundane nature of their work means boredom. The fishermen were either casting nets and pulling in the day's haul or spending time mending the nets for the next day. Casting, waiting, pulling, and mending, hour after hour, day after day. They lived and died by their nets.
As do we.
Our nets are the mundane activities of each day, working for a living, or taking care of our families. We live day after day of the same thing – up-down-up-down-up-down.
Then, one day, a man came along and called the four fishermen to him. He told them they would still be fishermen, but their catch would be different. Their catch would be the souls Jesus longed to draw to himself to bring them his peace and freedom. The four did not question the call; at least the Gospel does not tell us this, only that they dropped their nets and followed him, not knowing where he would lead them, and something in them must have known that this was the right thing to do. Perhaps they had heard Jesus speaking to the people, and they were touched. Maybe it was the inspiration of the Holy Spirit, quietly assuring them that he was the real deal. You know the rest of the story.
Jesus also calls you. Unlike the four disciples, you are not asked to leave your livelihood to do his work. Where you are, today is where you are supposed to be, but that shouldn't stop you from leading souls to Jesus. Whether you wait tables, work an assembly line, sit at an office desk, fight fires, or care for your children, that is where you are meant to be an example of Christ-light and Christ-life. You will cast your nets far and wide by your love and example. Should you be called to a vocation other than what you do today – the Holy Spirit will guide you to discern the will of God. But make no mistake: where you are right now is where you need to be. And perhaps, one day, the bobber will pull below the waterline, and you might just be given the gift of seeing another turn to Jesus because of your example and your patience.
"This is the time of fulfillment. The Kingdom of God is at hand."
God Bless.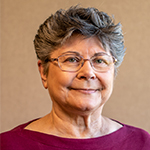 Jeanne Penoyar, an Accounts Manager at Diocesan, is a Lector at St. Anthony of Padua parish in Grand Rapids, MI. Jeanne has worked in parish ministry as an RCIA director, in Liturgy, and as a Cantor. Working word puzzles and reading fill her spare time. Jeanne can be reached at jpenoyar@diocesan.com.