Love is complicated — end of story.
Okay, not really end of story. But love IS complicated – that statement shouldn't surprise anyone. It's complicated enough that I went through several different intros for this blog post. Nothing I wrote seemed strong enough to convey the right sentiment. And yet, love and movements of the heart are all over today's readings.
We have all experienced love in our lives – the love of parents for their children, a husband's love for his wife, mutual affection and sharing between friends, and more. Whether we realize it or not, we have loved and been loved. It's been both painful and beautiful, tender and deep.
Yet, it pales in comparison to the love the Heavenly Father has for His children. Praise the Lord for that! Original holiness saw Adam and Eve walking with the Lord in the Garden of Eden, living in union with Him in His love. And even when they screwed up, God still loved them. He didn't leave His most beloved creation in chaos but planned to redeem and reconcile them to His love.
John 3:16 is one of the most quoted lines of Scripture; however, I believe it's one of the least understood. Or maybe it's understood on a very basic level, in our minds but not in the depths of our hearts. "God so loved the world that He gave His only Son so that everyone who believes in Him might not perish but might have eternal life." This point is repeated again at the end of today's first reading – a reminder we all need.
Love is also a subtle theme of the Gospel, the Feeding of the Five Thousand. The whole miracle came as a direct result of Jesus' heart being moved "with pity for them." He saw that they were lost, needing some love and attention and direction. Out of love, Jesus began to teach them and, only after attending to their spiritual needs, did He nourish their physical hunger in the form of a miracle. All out of love.
So, whether or not we have been able to acknowledge and receive love here on earth, we can rest in knowing the depth of our Heavenly Father's love – a love that sent His Son for our salvation and a love that will nourish our bodies and souls.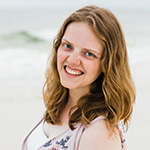 Erin is a Cleveland native and graduate of Franciscan University of Steubenville. Following graduation, she began volunteering in youth ministry at her home parish of Holy Family Church. Her first "big girl" job was in collegiate sports information where, after a busy two years in the profession on top of serving the youth, she took a leap of faith and followed the Lord's call to full-time youth ministry at St. Peter Church. She still uses her communication arts degree as a freelance writer and statistician, though. You can catch her on the Clarence & Peter Podcast on YouTube as well as follow her on Twitter @erinmadden2016.