So what is the deal with the list of ancestors? In the Gospels, we get Jesus' genealogy, not once but twice! Since nothing happens in the Bible without a purpose, we can only ask, "Why?"
First, the genealogies establish the historical reliability of the Bible. Jesus didn't live in a vacuum of time, space, and relationships. In Jewish tradition, people often introduced themselves in terms of family and tribe. The list in today's reading firmly establishes Jesus as part of the human family; true God, true man.
The genealogies also document the fulfillment of many of the prophecies of the Old Testament. Abraham is promised descendants as numerous as the stars, through Jesus, we are all the children of Abraham, brothers, and sisters in God. Isaiah tells us that the Messiah will spring from the root of Jesse, and the genealogy shows where Jesse and his son, King David, are in Jesus's family tree.
There are other lessons to learn from today's Gospel. When we trace God's creative action from Adam and Eve, the first couple, to Noah, the family saved in the flood, to Abraham from whose family will come a great nation, the common thread is family. We can see the importance of family in God's plan.
It makes sense; God is love, and love is not passive. Love is an action. Love is actualized when it is poured out in service to another. The love between God the Father and Jesus the Son is so complete, it is the third person of the Trinity, the Holy Spirit. God loves us so much, he sends his
Son, his Son loves us so much, he pours out his very body and blood to bring us into the family. Family is foundational.
Today is the first of the O Antiphons. They signal a change in our Advent preparation from a focus on being ready for when we meet Jesus face to face to preparing for Jesus' arrival into a human family as true God through the power of the Holy Spirit and true man as traced in the genealogy in Matthew.
We find the O Antiphon in today's Gospel acclamation. "O Wisdom of our God Most High, guiding creation with power and love, come to teach us the path of knowledge!" In his infinite wisdom, personified in Jesus Christ, God chose this path to come to us and to draw us to himself and his foundation is family. With God as our Father and under the tutelage of Mother Church, we are family. In love, we pour ourselves out for one another and to those around us as we strive to follow the path of Jesus.
As we approach these last days before beginning our Christmas celebration, let us open our hearts to one another. Let us open our hearts to the wisdom of God and remember we are all family and that is foundational.
O Come, O Wisdom of our God Most High!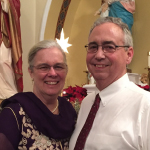 Sheryl delights in being the number 1 cheerleader and supporter for her husband, Tom who is a candidate for the Permanent Diaconate in the Diocese of Kalamazoo. They are so grateful for the opportunity to grow together in this process whether it is studying for classes, deepening their prayer life or discovering new ways to serve together. Sheryl's day job is serving her community as the principal for St. Therese Catholic School in Wayland, Michigan. Since every time she thinks she gets life all figured out, she realizes just how far she has to go, St. Rita of Cascia is her go-to Saint for intercession and help. Home includes Brea, a Bernese Mountain dog and Carlyn, a very, very goofy Golden Retriever.