COM-FORT: a state of physical ease and freedom from pain or constraint; the easing or alleviation of a person's feelings of grief or distress; a state or situation in which you are relaxed and do not have any physically unpleasant feelings; a state or feeling of being less worried, upset, frightened during a time of trouble or emotional pain; to give strength and hope; to strengthen by inspiring with hope and restoring a cheerful outlook.
Where do you find comfort? I have to admit, for me, it is a large bowl of mashed potatoes and gravy with a side plate of fried chicken (ya know—comfort food)! Or perhaps the pleasure of petting my cat when she's on my lap, and I can see the contentment in her eyes when she looks up at me as I scratch her neck and chin. Pretty trite, perhaps, given the definitions above and given the phenomenal imagery in today's readings. "Comfort, give comfort to my people, says your God." I'm sure Isaiah asked the questions: "how do I do this"? "Like a shepherd, he feeds his flock; in his arms, he gathers the lambs, carrying them in his bosom and leading the ewes with care." And from the Gospel: "…he rejoices more over it [the one who has gone astray] than over the ninety-nine that did not stray. In just the same way, it is not the will of your heavenly Father that one of these little ones be lost."
I love Isaiah. I especially love this reading and am always thrilled when I get to proclaim it at Mass. I find my heart uplifted and ever more hopeful knowing that my God is telling me that the people's exile, anguish, and anxiety is over as is mine, and yours. Knowing this, we should be able to shout out from the mountain the glad tidings that we need not fear! Our God is here. He alone rules with power, and he alone will shepherd his people, shepherd us. He feeds us with his own body and blood and carries us close to his bosom with care.
The Gospel reiterates this image of Jesus as the shepherd who will not let one single soul be lost without his constant efforts to bring it back to his fold. It's a beautiful image. It is, I believe, the ultimate comforting image of our God shown us through his Son. If at any time you are in despair or don't know where to turn for answers – for comfort – this is the image to which you should turn. I have to admit it will often bring me to tears.
Advent is the season of anticipation – the time of waiting to celebrate the birth of Jesus – but also to anticipate the coming time of our redemption in the death and resurrection of Jesus. It should be a joyful time, as well as a time of assessment of the state of our souls. Are we ready to receive him? Are we willing to be as the little ones – the little lambs – to be snatched up to his bosom and carried into that state of comfort? Oh, we can stand firm on our laurels and be "self-made" or "self-sufficient." But I caution you to remember that those who rely on themselves alone usually find themselves in those states of fear and anxiety. Only our shepherd, only our Lord, and King can bring us to a state of hope – and comfort. I leave you with some of my favorite words:
"In the desert prepare the way of the LORD!
Make straight in the wasteland a highway for our God!
Every valley shall be filled in,
every mountain and hill shall be made low;
The rugged land shall be made a plain,
the rough country, a broad valley.
Then the glory of the LORD shall be revealed,
and all people shall see it together;
for the mouth of the LORD has spoken."
God Bless.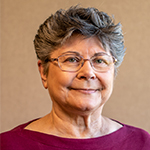 Jeanne Penoyar, an Accounts Manager at Diocesan, is a Lector at St. Anthony of Padua parish in Grand Rapids, MI. Jeanne has worked in parish ministry as an RCIA director, in Liturgy, and as a Cantor. Working word puzzles and reading fill her spare time. Jeanne can be reached at jpenoyar@diocesan.com.