As we draw near to the end of Ordinary Time, preparing to enter into Advent, the Gospel readings are… serious. Jesus is giving serious warnings about the destruction of Jerusalem, about signs in the sun and moon and stars, about wars and the persecution of his followers. And understandably, his followers are asking the obvious questions: When will this happen? How will we know? What should we do?
We naturally feel unsettled by these descriptions. It is not comforting or empowering to think of things falling apart and ending. And yet, in yesterday's Gospel, when Jesus described people dying in fright and the powers of the heavens shaking, he tells his followers to "stand erect and raise your heads" rather than fearfully cower in a corner. Why? "Because your redemption is at hand" (Luke 21-28).
As he speaks of these things, Jesus uses words and imagery that his listeners would understand as referring to the Day of the Lord predicted by the Old Testament prophets. This was seen by Jews as the coming of the Messiah, the end of the Old Covenant, the dividing point of all of history. Jesus is helping us to see that the Day of the Lord is more than a day: it extends to the end of time, as the experience of the first Christians – persecution, growth, war, and disaster – is repeated by every generation until Jesus returns. Jesus IS with us. Jesus WILL return in glory. And Jesus WILL reign over all eternally.
There is another lesson here. In today's short Gospel, Jesus tells his disciples that these things will certainly come because his word is Truth. No matter what is happening in our human lives, in the culture, in the natural world, in our families, in our hearts, HIS WORD IS TRUTH. "Heaven and earth will pass away, but my words will NOT pass away." His word is meaningful and everlasting and absolutely stable. More stable than the sun and the moon and the mountains and the sea, more lasting than our own ideas and hopes and agendas, more meaningful than all our own activity.
All of human history is moving toward a final, climactic moment when Christ returns in glory. Each of our personal contributions to that history will be made known when Christ establishes "a new heaven and a new earth" (Rev. 21:1), and takes his place on the eternal Throne of Love. By placing these readings at the end of the liturgical year, the Church invites us to ponder the awesomeness of our eternal destiny, the seriousness with which we must attend to our baptismal calling, and the great Gift of Love that God gave us in sending His only-begotten Son to save us.
With this as our backdrop, we are better "prepared to prepare" – this Sunday we enter into Advent, when we focus our efforts on joyful preparation for our celebration of this Gift of Jesus at Christmas!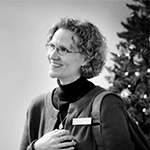 Kathryn Mulderink, MA, is married to Robert, Station Manager for Holy Family Radio. Together they have seven children (including newly ordained Father Rob and seminarian Luke ;-), and two grandchildren. She is a Secular Discalced Carmelite and has published five books and many articles. Over the last 25 years, she has worked as a teacher, headmistress, catechist, Pastoral Associate, and DRE. Currently, she serves the Church as a writer and voice talent for Catholic Radio, by publishing and speaking, and by collaborating with the diocesan Office of Catechesis, various parishes, and other ministries to lead others to encounter Christ and engage their faith. Her website is https://www.kathryntherese.com/.