"Well done, my good and faithful servant." "You wicked, lazy servant."
Secretly I hope one day to hear the first sentence addressed to me by God and not the second. And you?
One thing we can learn from the parable today, among its many lessons, is the paralyzing effect of anxiety. The one who received only one talent stated he was afraid of his master so he hid his talent in the ground so he could safely return it to him.
This anxiety gnaws at the human spirit as we grow into our middle years, even if we consider ourselves someone who believes in God's love and mercy. "I just turned 51 last month. I'm beginning to ask myself: Have I done what I was supposed to in this life? Have I wasted too much time? What if I don't figure out what God wants of me before my life is over?" These questions my friend began asking herself are typical mid-life questions we ponder as we sense that "time is running out." At 51, those questions started to pop up into my own consciousness unbidden.
"I hope that God doesn't remember what I did before I got married.…" "I'm praying that God is watching the good things I'm doing now and forgetting about the past." The variation is as infinite as the hearts that voice them….
In the parable in today's Gospel, the one thing that is missing is the thoughts, the questions, the excitement or anxiety of those who received the talents from the master who went on a journey. Jesus doesn't make these explicit in the parable. However, it is this inner world that we are most familiar with, particularly as we grow older. The early heady days of celebrating the adventurous and smart successful things we do with our personal talents and spiritual gifts are long gone. Now our memories stretch over decades as regrets and uncertainties begin to surface around the edges of our grateful and happy memories. And the anxiety shows up with them.
The anxiety, I believe, begins to haunt us because we know clearly now that we can't control life as we believed we could when we were younger. And we know that judgment approaches with the moment of our death, and judgment, by its nature and in our human experience, implies another having power over us. I know my desire—my urgent need—to have a straight A report card to present at the heavenly door to my Savior has not been achieved. Too much has transpired in 56 years. A weight of struggle, trial, and temptation has accompanied the joyful, beautiful, and grace-gifted events of my life. When I appear before my divine Spouse and infinitely loving Redeemer, it will be now with the empty hands of St Therese, the Little Flower. No, Jesus, I trust myself entirely to your merits. I have no virtue, no merits, no glory. I take yours and that is sufficient for me. I am but a little child….
There is a story of St Francis de Sales who was tortured as a young man with the fear that he was going to hell. I don't remember how long he endured this trial, but I'm sure some of you, as I, have at some point in our life had this perhaps unspoken concern. It was only when Francis finally, at the foot of the Blessed Sacrament, cried out in his pain to the Lord that he found relief. "If I am doomed to hell," he said at last, "then at least there will I love Thee, my God, so that Thou art loved even in the midst of that place of darkness and pain." And immediately the weight of sorrow and fear lifted.
If you are experiencing anxiety like this, do not bury your heart in the ground. Reach out to someone you trust. Share your story. Get perspective. Enter a journey of healing. Experience the joy of confession.
This parable convinces me of how serious life is. From beginning to end it is a journey that we make as we emerge from the hands of a loving Father and in our sunset years return it into his hands. A gift that we have carried through the storms and songs of many decades of living in often uncontrollable and incomprehensible situations that weave their way through the lovely experiences that have made our hearts swell with gratitude and love. The gift of this life we invest by making responsible choices to love our Creator and Father, conform our lives to Jesus our Brother, and open our hearts to the sanctifying presence of the Spirit. But in the end, we return to him with the joy of our holiness, yes, but we recognize as the first Preface for the Saints declare:
"You are praised in the company of your Saints and, in crowning their merits, you crown your own gifts."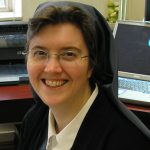 Kathryn James Hermes, FSP, is the author of the newly released title: Reclaim Regret: How God Heals Life's Disappointments, by Pauline Books and Media. An author and spiritual mentor, she offers spiritual accompaniment for the contemporary Christian's journey towards spiritual growth and inner healing. She is the director of My Sisters, where people can find spiritual accompaniment from the Daughters of St. Paul on their journey.
Website: www.touchingthesunrise.com
Public Facebook Group: https://www.facebook.com/groups/srkathrynhermes/
For monthly spiritual journaling guides, weekly podcasts and over 50 conferences and retreat programs join my Patreon community: https://www.patreon.com/srkathryn.