Your words, Lord, are more precious than gold.
"Yes, Lord, we agree, we wholeheartedly accept that first reading today…the commandments you have delivered through Moses. Why? Because you, Lord, have the words of everlasting life!"
Imagine this cry rising from the subways, the courtrooms, the board rooms, homes and schools, and industrial parks, theaters, newsrooms, universities and social media posts, comments on blog and news streams.
"You, Lord, have the words of everlasting life! Yes, YOU, Lord, refresh the soul with a law that is perfect, that is trustworthy, that gives wisdom, that rejoices the heart, that enlightens the eye" (from today's Responsorial Psalm).
Those I know who absolutely would never be caught saying those words about the commandments of God are often, as the Gospel parable of the sower hints, "without understanding." Their hearts have been taken in by what seems to them to be reasonable or comfortable or fair or compassionate. God's law seems, by contrast, to be harsh and unbending.
When the seed of the word falls on the heart of one who is without understanding, the parable states that the "Evil One comes and steals it away." So it seems it is essential to have "understanding" or to sanctify our minds, as Blessed James Alberione, founder of the Pauline Family, taught.
Here are three things you can do to "sanctify your mind" to grow in "understanding":
1) Spiritual Reading. Devote yourself to reading the Scriptures or a book of spiritual reading several times a week. It is important to confront our human way of thinking with God's thoughts, to wrestle with God's word, to bow before the Father, whose every action is perfect.
2) Humility. Ask the Lord to help you understand things from his point of view. When our mind is riddled with distraction and arrogance and fears and inquisitiveness, our mind is ill. We naturally believe whatever we come up with as true or just or right. In this state, it can't bend in adoration to Almighty God without growing first in virtue of humility. As Bishop Sheen, whose path for beatification has been cleared, once said: "Our intellects do not make the truth; they attain it: they discover it."
3) Pray to the Holy Spirit for the gift of understanding. Our intellect by itself can only reason humanly, even if it is filled with faith. It is incapable of seizing the infinite, even though it lives of faith. When we receive the Holy Spirit's gift of understanding we "experience" what is true, we grasp divine mysteries with the knowledge of God himself in a way that profoundly affects us, a spiritual intuition that impresses itself on our soul. This kind of understanding changes us. We can never not know what we have come to see through the gift of understanding.
Your words, Lord, all of them,
"are more precious than gold,
than a heap of purest gold;
Sweeter also than syrup
or honey from the comb."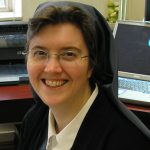 Kathryn James Hermes, FSP, is the author of the newly released title: Reclaim Regret: How God Heals Life's Disappointments, by Pauline Books and Media. An author and spiritual mentor, she offers spiritual accompaniment for the contemporary Christian's journey towards spiritual growth and inner healing. She is the director of My Sisters, where people can find spiritual accompaniment from the Daughters of St. Paul on their journey.
Website: www.touchingthesunrise.com
Public Facebook Group: https://www.facebook.com/groups/srkathrynhermes/
For monthly spiritual journaling guides, weekly podcasts and over 50 conferences and retreat programs join my Patreon community: https://www.patreon.com/srkathryn.