Sometimes, Jesus changed his plans. But it seems the only reason he ever changed his plans was out of love.
In today's Gospel, Jesus intends to pass through Jericho, but his loving desire to save Zacchaeus changes his plans. Zacchaeus is not a pious saint; he is a wealthy man, a chief tax collector, a sinner in the eyes of others. He is, in many ways, lost. But Jesus came "to seek and save what was lost," and so he is eager to reward the effort of this poor sinner by telling him to "come down quickly" and inviting himself into his home.
Zacchaeus may not have understood his own motivation for climbing that tree to get a glimpse of Jesus. Maybe it seemed initially like superficial curiosity, maybe he had climbed trees before, being "short in stature." But he follows that good impulse and Jesus meets him right there, and draws him more deeply into his gaze, into his heart. And Zacchaeus responds by receiving the grace that is being offered, repenting of his greed, repaying any extortion fourfold, and giving away half of his possessions to the poor.
Sometimes we become stuck by believing that we will never make real progress in spiritual things because of our own inadequacy, because we are "short in stature" spiritually. And it is true that, by ourselves and our own resources, we can do nothing. But we are not on our own! The Lord is just as eager to draw us into his gaze and into his heart as he was to draw Zacchaeus to repentance. The Lord always meets us more than halfway and brings us to the next level. If we take a step toward him, he takes two steps toward us. If we put forth an effort to know him, he looks at us and receives us. If we acknowledge our own weakness, he becomes our strength. If we hold up our brokenness, he heals us. Whatever we open to him, he fills abundantly!
So let us all resolve to never give into the temptation to be discouraged or to believe that we cannot become holy, or that holiness is not for us. Instead, let us put all our hope in the Lord, who lovingly came "to seek and save what was lost" and whose Divine Creativity never fails to find ways to draw us to himself.
---
A veces, Jesús cambiaba sus planes. Pero parece que la única razón por la que cambió sus planes fue por amor.
En el evangelio de hoy, Jesús se propone pasar por Jericó, pero su deseo amoroso de salvar a Zaqueo cambia sus planes. Zaqueo no es un santo piadoso; es un hombre rico, un jefe de los recaudadores de impuestos, un pecador a los ojos de los demás. Está, en muchos sentidos, perdido. Pero "el Hijo del hombre ha venido a buscar y a salvar lo que se había perdido", por lo que está deseoso de recompensar el esfuerzo de este pobre pecador diciéndole "bájate pronto" e invitándose a sí mismo a su casa.
Es posible que Zaqueo no haya entendido su propia motivación para trepar a ese árbol para ver a Jesús. Tal vez inicialmente parecía una curiosidad superficial, tal vez había trepado a los árboles antes, siendo "de baja estatura". Pero sigue ese buen impulso y Jesús lo encuentra allí mismo, y lo atrae más profundamente a su mirada, a su corazón. Y Zaqueo responde recibiendo la gracia que se le ofrece, arrepintiéndose de su avaricia, pagando cuatro veces cualquier extorsión y entregando la mitad de sus bienes a los pobres.
A veces nos atascamos al creer que nunca lograremos un progreso real en las cosas espirituales debido a nuestra propia insuficiencia, porque espiritualmente somos "de baja estatura". Y es verdad que, por nosotros mismos y con nuestros propios recursos, no podemos hacer nada. ¡Pero no estamos solos! El Señor está tan deseoso de atraernos a su mirada y a su corazón como lo estaba de atraer a Zaqueo al arrepentimiento. El Señor siempre nos encuentra a más de la mitad del camino y nos lleva al siguiente nivel. Si damos un paso hacia él, él da dos pasos hacia nosotros. Si nos esforzamos por conocerlo, él nos mira y nos recibe. Si reconocemos nuestra propia debilidad, él se convierte en nuestra fuerza. Si levantamos nuestro quebrantamiento, él nos sana. Todo lo que le abrimos, ¡Él lo llena abundantemente!
Así que tomemos la determinación de nunca ceder a la tentación de desanimarnos o de creer que no podemos llegar a ser santos, o que la santidad no es para nosotros. En cambio, pongamos toda nuestra esperanza en el Señor, que amorosamente vino a "buscar y a salvar lo que se había perdido" y cuya Divina Creatividad siempre encuentra formas de atraernos hacia él.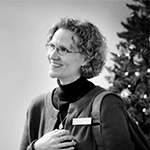 Kathryn Mulderink, MA, is married to Robert, Station Manager for Holy Family Radio. Together they have seven children (including Father Rob), and seven grandchildren. She is President of the local community of Secular Discalced Carmelites and has published five books and many articles. Over the last 30 years, she has worked as a teacher, headmistress, catechist, Pastoral Associate, and DRE, and as a writer and voice talent for Catholic Radio. Currently, she serves the Church by writing and speaking, and by collaborating with various parishes and to lead others to encounter Christ and engage their faith. Her website is www.KathrynTherese.com
Feature Image Credit: Rita Laura, cathopic.com/photo/15994-via-crucis-al-atardecer