As the season of Advent quickly approaches, I thought I would try to focus my next several reflections on Advent and specifically the incarnation. The First Reading from today perfectly summarizes the state of our world. "Many deceivers have gone out into the world, those who do not acknowledge Jesus Christ as coming in the flesh; such is the deceitful one and the antichrist." 
How many people do you know who have made comments like "The bible is just a fiction book" or "Jesus didn't really exist but they are nice stories to keep people in line?" I have heard this quite a few times. It might seem easy just to shrug these comments off and let people believe what they are going to believe, but the historical facts hold Jesus Christ as a real person who walked, talked, died, and rose from the dead. 
The reason this is so important is that to deny the humanity of Christ or to simply turn his story into a myth or legend, is to deny Christ himself. The overwhelming historical evidence and eyewitness testimony of the events of Jesus' life should be enough to overcome any reasonable doubt about whether or not he lived. But why is it so important that Jesus was a man who truly walked on this earth? 
We all know that Jesus came to die for our sins, but Jesus also came to remind us of who we are. Think about it, in the beginning we had the life of God within us. This is the likeness to God that is spoken of in Genesis. As Catholics we call this sanctifying grace. After the fall we lost the likeness of God within us. Satan wants us to believe that our state now is how we are supposed to be. We have forgotten who we really are. Jesus became man to remind us there is so much more. 
The Catechism makes this clear when it states, "Disfigured by sin and death, man remains 'in the image of God,' in the image of the Son, but is deprived 'of the glory of God,' of his 'likeness.' The promise made to Abraham inaugurates the economy of salvation, at the culmination of which the Son himself will assume that 'image' and restore it in the Father's 'likeness' by giving it again its Glory, the Spirit who is 'the giver of life.'" -CCC 705
So in other words, Jesus became man not only to save us FROM our sin, but to save us FOR the glory of God. Jesus himself assumes the image of man (the body) and restores it to the likeness of God. This is what the incarnation is all about. God became man so that we might perfectly participate in his divinity one day in heaven. That is the good news. Talk about the reason for the season. 
From all of us here at Diocesan, God bless!
---
A medida que se acerca rápidamente la temporada de Adviento, pensé que intentaría centrar mis próximas reflexiones en el Adviento y específicamente en la encarnación. La Primera Lectura de hoy resume perfectamente el estado de nuestro mundo. "Ahora han surgido en el mundo muchos que tratan de engañar, pues niegan que Jesucristo es verdadero hombre. Estos son el verdadero impostor y anticristo."
¿Cuántas personas conoces que hayan hecho comentarios como "La Biblia es solo un libro de ficción" o "Jesús en realidad no existió, pero son buenas historias para mantener a la gente en línea?" Lo he escuchado bastante. Puede parecer fácil ignorar estos comentarios y dejar que la gente crea lo que va a creer, pero los hechos históricos muestran a Jesucristo como una persona real que caminó, habló, murió y resucitó de entre los muertos.
Esto es tan importante porque negar la humanidad de Cristo o simplemente convertir su historia en un mito o leyenda, es negar a Cristo mismo. La abrumadora evidencia histórica y el testimonio de los testigos oculares de los eventos de la vida de Jesús deberían ser suficientes para superar cualquier duda razonable sobre si vivió o no. Pero, ¿por qué es tan importante que Jesús fue un hombre que verdaderamente caminó sobre esta tierra?
Todos sabemos que Jesús vino a morir por nuestros pecados, pero Jesús también vino a recordarnos quiénes somos. Piénsalo, al principio teníamos la vida de Dios dentro de nosotros. Es la semejanza a Dios de la que se habla en Génesis. Como católicos lo llamamos gracia santificante. Después de la caída perdimos la semejanza de Dios dentro de nosotros. Satanás quiere que creamos que nuestro estado actual es como siempre debemos ser. Hemos olvidado quiénes somos en realidad. Jesús se hizo hombre para recordarnos que hay mucho más.
El Catecismo deja esto claro cuando afirma: "Desfigurado por el pecado y por la muerte, el hombre continua siendo "a imagen de Dios", a imagen del Hijo, pero "privado de la Gloria de Dios" (Rm 3, 23), privado de la "semejanza". La Promesa hecha a Abraham inaugura la Economía de la Salvación, al final de la cual el Hijo mismo asumirá "la imagen" (cf. Jn 1, 14; Flp 2, 7) y la restaurará en "la semejanza" con el Padre volviéndole a dar la Gloria, el Espíritu 'que da la Vida'". -CIC 705
En otras palabras, Jesús se hizo hombre no solo para salvarnos DE nuestro pecado, sino para salvarnos PARA la gloria de Dios. Jesús mismo asume la imagen del hombre (el cuerpo) y lo restaura a la semejanza de Dios. De esto se trata la encarnación. Dios se hizo hombre para que pudiéramos participar perfectamente de su divinidad un día en el cielo. Esa es la buena noticia. Les invito a hablar acerca de la razón de la temporada con los demás.
De parte de todos nosotros aquí en Diocesan, ¡Dios los bendiga!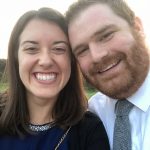 Tommy Shultz is a Business Development Representative for Diocesan. In this role he is committed to bringing the best software to dioceses and parishes while helping them evangelize on the digital continent. Tommy has worked in various diocese and parish roles since his graduation from Franciscan University with a Theology degree. He hopes to use his skills in evangelization, marketing, and communications, to serve the Church and bring the Good News to all. His favorite quote comes from St. John Paul II, who said, "A person is an entity of a sort to which the only proper and adequate way to relate is love."
Feature Image Credit: Priscilla Du Preez, unsplash.com/photos/CoqJGsFVJtM