Why is it that the more anxious we are, the more we cling to our vices? As each day brings us closer and closer to my husband's surgery next week, I find myself getting into the kids' Halloween candy more and more. If I just indulge in one little pleasure, if I just have a little more sugar in my body, maybe I'll feel better or more in control. 
The problem is, the effect is just the opposite. It only causes my thoughts to accelerate, my joints to be cranky and my body to be more sluggish, not to mention the extra pounds I am surely packing on. 
The guest priest said in his homily last weekend that prayer is what we most need to get closer to God, yet it is often the first thing we push away. When we have a lot to do, the first thing we discard is our prayer time. Why is that? When we feel like we are in survival mode, do we consider it nonessential? As I am typing this I realize even more what an oxymoron that is! What is more essential than God himself? Without Him we wouldn't even be here!
When will we learn that the only way to be in control is to let go and let God be in control..?
Yet it appears as if Jesus has lost control in today's Gospel. We see him driving out vendors with a whip and overturning the money changers' tables. This is perhaps the one place in Scripture where we see Him in a true display of righteous anger… "and to those who sold doves he said, 'Take these out of here, and stop making my Father's house a marketplace.'"
I remember recalling this passage while visiting Ireland several years ago. A country that has such a rich Catholic heritage (mostly thanks to St. Patrick), is falling away from the faith little by little. Several of their majestic churches have either been sold to Protestants or are now tourist hubs. It was the strangest thing to walk into a beautiful church and see booklets, maps and trinkets. It truly felt like a marketplace. 
And perhaps, as we allow ourselves to succumb to our vices and shove prayer aside, we are allowing a noisy marketplace to rise up in our hearts. And what does Jesus want to do? He wants to "whip us into shape" so to speak, and overturn the tables of our false expectations. 
God truly is in control, that is, He will be, if only we let Him… 
---
¿Por qué cuanto más ansiosos estamos, más nos aferramos a nuestros vicios? A medida que nos acercamos más y más a la cirugía de mi esposo la próxima semana, me encuentro cada vez más agarrando los dulces de Halloween de his hijos. Si solo me permito un pequeño placer, si solo tengo un poco más de azúcar en mi cuerpo, tal vez me sienta mejor o con más control.
El problema es que el efecto es todo lo contrario. Solo hace que mis pensamientos se aceleren, que mis articulaciones estén irritables y que mi cuerpo sea más lento, sin mencionar los kilos de más que seguramente estoy acumulando.
El sacerdote invitado dijo en su homilía el fin de semana pasado que la oración es lo que más necesitamos para acercarnos a Dios, pero a menudo es lo primero que rechazamos. Cuando tenemos mucho que hacer, lo primero que descartamos es nuestro tiempo de oración. ¿Porqué? Cuando sentimos que estamos simplemente sobreviviendo, ¿lo consideramos no esencial? ¡Mientras escribo esto me doy cuenta aún más del oxímoron que es! ¿Qué es más esencial que Dios mismo? ¡Sin Él ni siquiera estaríamos aquí!
¿Cuándo aprenderemos que la única forma de tener el control es dejar que Dios tenga el control?
Sin embargo, parece como si Jesús hubiera perdido el control en el Evangelio de hoy. Lo vemos expulsando a los vendedores con un látigo y volcando las mesas de los cambistas. Este es quizás el único lugar en las Escrituras donde lo vemos en una verdadera muestra de ira justa… "y a los que vendían palomas les dijo: 'Quiten todo de aquí y no conviertan en un mercado la casa de mi Padre'".
Me acuerdo de haber pensado en este pasaje cuando visité a Irlanda hace varios años. Un país que tiene una herencia católica tan rica (sobre todo gracias a San Patricio), se está alejando de la fe poco a poco. Varias de sus majestuosas iglesias han sido vendidas a protestantes o ahora son centros turísticos. Fue de lo más extraño entrar a una hermosa iglesia y ver folletos, mapas y regalitos de recuerdo. Realmente se sentía como un mercado.
Y tal vez, al permitirnos sucumbir a nuestros vicios y dejar de lado a la oración, estamos permitiendo que un mercado ruidoso se levante en nuestros corazones. ¿Y qué quiere hacer Jesús? Quiere encaminarnos y derribar las mesas de nuestras  expectativas falsas.
Dios verdaderamente tiene el control, es decir, lo tendrá, si tan solo se lo entregamos…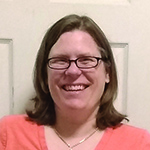 Tami Urcia grew up in Western Michigan, a middle child in a large Catholic family. She spent early young adulthood as a missionary in Mexico, studying theology and philosophy, then worked and traveled extensively before finishing her Bachelor's Degree in Western Kentucky. She loves tackling projects, finding fun ways to keep her little ones occupied, quiet conversation with the hubby and finding unique ways to love. She works at for Christian Healthcare Centers, is a guest blogger on CatholicMom.com and BlessedIsShe.net, runs her own blog at https://togetherandalways.wordpress.com and has been doing Spanish translations on the side for over 20 years.
Feature Image Credit: Brett Jordan, unsplash.com/photos/JZUAigW8Kbo