Today's readings can be a bit harsh; however, it is all laid out for us. We are essentially given a good examination of conscience in the First Reading, followed by a good reminder of our goal, what lies ahead for those who follow God's law. 
Living the Christian life is about more than just following a set of commandments, though. It's about living a life in relationship with God, the same God who awaits us in Heaven. Eternal life with God in Heaven will be the fulfillment of all our desires, most of which we cannot imagine at this point in our lives. But we do know that all of the desires we experience here on earth ultimately point to our eternal life in Heaven, and so we should work to order those desires to God now. 
Let's take social media. The hours (yes, hours) a day we spend on our phones is quite alarming, as we can truly scroll our lives away, and that's exactly what the social media companies want us to do. We scroll because we haven't quite found what we were looking for – we're left wanting more. More likes, more comments, more shares, more videos, more, more, more. We're never truly satisfied, always left unfulfilled. 
That is because our desires are ultimately directed toward Christ and only He can truly fulfill them. One of St. Augustine's most well-known lines from his Confessions is, "You have made us for yourself, O Lord, and our hearts are restless until they rest in You." How true it is! For the likes and affection and affirmation we may be searching for on social media, are freely given to us by our Lord. We are loved, we are cherished, we are chosen by Him. That's all we truly need in life, is to know how much we are loved by our God who created us, who became man for us and who died for us. 
We should always keep our eyes fixed on Christ, who always fixes His eyes on us, who desires all of us to be in Heaven with Him one day and who wants to fulfill the longings of our hearts with His love.
---
Las lecturas de hoy pueden ser un poco duras; sin embargo, todo lo que dice nos encamina. Esencialmente se nos da un buen examen de conciencia en la Primera Lectura, seguido de un buen recordatorio de nuestra meta, lo que les espera a aquellos que siguen la ley de Dios.
Sin embargo, vivir la vida cristiana es algo más que seguir un conjunto de mandamientos. Se trata de vivir una vida en relación con Dios, el mismo Dios que nos espera en el Cielo. La vida eterna con Dios en el Cielo será el cumplimiento de todos nuestros deseos, la mayoría de los cuales no podemos imaginar en este momento de nuestras vidas. Pero sabemos que todos los deseos que experimentamos aquí en la tierra apuntan en última instancia a nuestra vida eterna en el Cielo, por lo que debemos trabajar para ordenar esos deseos a Dios ahora.
Hablemos po un momento sobre las redes sociales. Las horas (sí, horas) que pasamos todos los días en el teléfono son bastante alarmantes, ya que realmente podemos alejarnos de nuestras vidas, y eso es exactamente lo que las compañías de redes sociales quieren que hagamos. Nos desplazamos porque no hemos encontrado lo que estábamos buscando, nos quedamos con ganas de más. Más "likes", más comentarios, más de mis anécdotas compartidas, más videos, más, más, más. Nunca nos quedamos verdaderamente satisfechos, siempre quedamos insatisfechos.
Esto se debe a que, en última instancia, nuestros deseos están dirigidos hacia Cristo y solo Él puede cumplirlos verdaderamente. Una de las frases más conocidas de San Agustín de su escrito Las Confesiones es: "Nos has hecho para ti, oh Señor, y nuestro corazón está inquieto hasta que descanse en ti". ¡Qué cierto es! Porque los gustos, el afecto y la afirmación que podemos estar buscando en las redes sociales, nos los da nuestro Señor gratuitamente. Somos amados, somos apreciados, somos elegidos por Él. Eso es todo lo que realmente necesitamos en la vida, es saber cuánto nos ama nuestro Dios que nos creó, que se hizo hombre por nosotros y que murió por nosotros.
Siempre debemos tener los ojos fijos en Cristo, quien siempre fija Su mirada en nosotros, quien desea que todos nosotros estemos algún día en el Cielo con Él y quien quiere cumplir los anhelos de nuestro corazón con Su amor.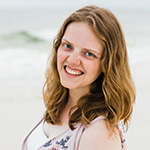 Erin is a Cleveland native and graduate of Franciscan University of Steubenville. She is passionate about the Lord Jesus, all things college sports and telling stories and she is blessed enough to get paid for all three of her passions as a full-time youth minister and a freelance sports writer.
Feature Image Credit: christian buehner, unsplash.com/photos/Krb1gqZd37o