Modern society would have us declare today is Halloween. Costumes, jack o' lanterns, trick-or-treating, candy. Our Catholic faith, on the other hand, would instead remind us that today is All Hallows Eve, the day before All Saints Day. The Church established All Saints Day to get people's minds focused away from the minor debauchery and pagan rituals that continue today as Halloween celebrations, and instead focus on something greater and more pure — the men and women, known and unknown, who have been found worthy by God to spend eternity with Him in heaven.
All Saints Day reminds us of our very reason for being and our ultimate goal — to know, love and serve God in this life so we can be with Him in the next. We are called to be saints, plain and simple. But how do we do it? First off, we know we are saved, not by anything we could ever do, but by the sacrificial death and resurrection of our Lord, Jesus Christ. Having that faith in Jesus is more than just announcing our belief and waiting for our ticket to heaven. Our Lord made it perfectly clear in his teachings that faith is participatory. Not only are we to believe, but we are to share it with others by the way we live, love and serve. Remember that "whatever you did to the least of my brothers, you did to me"? That's straight from Jesus himself. The mandate to love and serve comes right from the top.
Once again, how do we do it? Today's readings give us a little push in the right direction. Step one: believe. Step two: shrink. Paul explains it to the Philippians: "… humbly regard others as more important than yourselves, each looking out not for his own interests, but also everyone for those of others."
Ah, of course, humility. Jesus puts it this way in the Gospel today, taken from Luke: "… when you hold a banquet, invite the poor, the crippled, the lame, the blind; blessed indeed will you be because of their inability to repay you." Jesus would have us humble ourselves into serving the less fortunate and the outcast. The reward awaits in the heaven we strive to reach.
The Psalm response tells us why we should start small, in humility, on our journey toward God. "In you, O Lord, I have found my peace." Think of all the saints we do know. Their common trait is their humility, that God is in charge, and they are merely his servants. They testify to the peace and joy we can only find in the Lord, and they did so despite trials, suffering, even martyrdom. May we also find our peace in our reliance on the Lord.
---
La sociedad moderna nos declara que hoy es Halloween. Disfraces, calabazas, ir casa por casa a pedir dulces. Nuestra fe católica, por otro lado, nos recuerda que hoy es la víspera de Todos los Santos, el día anterior al Día de Todos los Santos. La Iglesia estableció el Día de Todos los Santos para que las mentes de las personas se alejen del libertinaje y los rituales paganos que continúan hoy en día como celebraciones de Halloween, y en su lugar se concentren en algo más grande y más puro: los hombres y mujeres, conocidos y desconocidos, que Dios ha encontrado digno para pasar la eternidad con Él en el cielo.
El Día de Todos los Santos nos recuerda nuestra verdadera razón de ser y nuestro objetivo final: conocer, amar y servir a Dios en esta vida para poder estar con Él en la próxima. La verdad sencilla es, somos llamados a ser santos. Pero, ¿cómo lo hacemos? En primer lugar, sabemos que somos salvos, no por nada que pudiéramos hacer, sino por la muerte sacrificial y la resurrección de nuestro Señor Jesucristo. Tener esa fe en Jesús es más que simplemente anunciar nuestra creencia y esperar nuestro boleto al cielo. Nuestro Señor dejó perfectamente claro en sus enseñanzas que la fe es participativa. No solo debemos creer, sino que debemos compartirlo con los demás por la forma en que vivimos, amamos y servimos. ¿Recuerdas que "cuanto hicisteis al más pequeño de mis hermanos, a mí me lo hicisteis"? Eso viene directamente del mismo Jesús. El mandato de amar y servir viene desde arriba.
Una vez más, ¿cómo lo hacemos? Las lecturas de hoy nos dan un pequeño empujón en la dirección correcta. Primer paso: creer. Paso dos: hacernos menos. Pablo lo explica a los filipenses: "…por humildad, cada uno considere a los demás como superiores a sí mismo y no busque su propio interés, sino el del prójimo".
Ah, por supuesto, la humildad. Jesús lo expresa así en el Evangelio de hoy, tomado de Lucas: "… Cuando des una comida o una cena, no invites a tus amigos, ni a tus hermanos, ni a tus parientes, ni a los vecinos ricos; porque puede ser que ellos te inviten a su vez, y con eso quedarías recompensado." Jesús quiere que nos humillemos para servir a los menos afortunados y marginados. La recompensa aguarda en el cielo que nos esforzamos por alcanzar.
El Salmo Responsorial nos dice por qué debemos comenzar de a poco, en humildad, en nuestro camino hacia Dios. "Dame, Señor, la paz junto a ti". Piensa en todos los santos que conocemos. Su rasgo común es su humildad, que Dios está a cargo, y ellos son simplemente sus sirvientes. Dan testimonio de la paz y el gozo que sólo podemos encontrar en el Señor, y lo hicieron a pesar de las pruebas, el sufrimiento e incluso el martirio. Que también encontremos nuestra paz confiando en el Señor.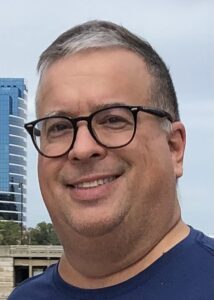 Mike Karpus is a regular guy. He grew up in Michigan's Upper Peninsula, graduated from Michigan State University and works as an editor. He is married to a Catholic school principal, raised two daughters who became Catholic school teachers at points in their careers, and now relishes his two grandchildren, including the older one who is fascinated with learning about his faith. He also has served on a Catholic school board, a pastoral council and a parish stewardship committee. He currently is a lector at Mass, a Knight of Columbus, Adult Faith Formation Committee member and a board member of the local Habitat for Humanity organization. But mostly he's a regular guy.
Feature Image Credit: Ben White, unsplash.com/photos/qYanN54gIrI