I grew up with a fairly large extended family. If you combine both my mom and dad's sides, I have about 30 cousins. As one of the oldest cousins, I know a thing or two about jockeying for places at the table. We always had a "kids" table at holiday meals. When we were younger, we loved this table. It was where the goofy uncle sometimes sat and where you could get away with harmless pranks, extra rolls and whipped cream on noses. But as we got older and more cousins were born, we began to feel like we were being left out of something even more fun…the adult table. That was the place to be! The adult table had the stories, the gossip, even more extra rolls (how many rolls were there!?), fancier place settings and the cool, younger aunts and uncles. I still remember the Thanksgiving where I got to sit at the adult table for the first time as a teenager. It was amazing. 
Where you sit at a meal, in a movie theater, on a plane, pretty much anywhere, matters on some kind of deep level. Jesus observed this in our Gospel reading today as He watched the guests choose their seats. In Jesus' time, and similarly even in our own time, the proximity to the host at a meal designated a superior standing relative to the others seated further away. Think about weddings especially, where seating is so often a carefully orchestrated thing. Where you sit matters, be it to you or to others around you. 
It makes me wonder where Jesus was sitting at this table. Was He in the place of the guest of honor or somewhere lower down the table? I wonder how the host felt about Jesus' speech. Do you think perhaps he wanted to reconsider where certain people were sitting? It also makes me wonder about where Jesus would sit in my own home. Where does He "sit" in my life? Have I given Him the place of honor or replaced Him with something less than worthy of that high status?
It seems almost silly to imagine, asking Jesus to step aside in favor of some extra cash, a promotion at work, a completed checklist or the praise of others. But this is exactly what we do when we do not give Jesus His rightful place as the center of our lives. Jesus is the perfect model of humility, both at this meal and in each of our hearts. He does not shove His way to the front, nor does He insist we give Him what is rightfully His. He waits patiently for us to invite Him forward to sit beside us. 
---
Crecí con una familia extendida bastante grande. Si combinas los lados de mi mamá y mi papá, tengo alrededor de 30 primos. Como uno de los primos mayores, sé un par de cosas sobre competir por lugares en la mesa. Siempre teníamos una mesa para "niños" en las comidas festivas. Cuando éramos más jóvenes, nos encantaba esta mesa. Era donde a veces se sentaba el tío divertido y donde podías salirte con la tuya con bromas inofensivas, panes extra y crema batida en la nariz. Pero a medida que crecimos y nacieron más primos, empezamos a sentir que nos estábamos quedando fuera de algo aún más divertido… la mesa de los adultos. ¡Ese era el lugar para estar! La mesa de los adultos tenía las historias, los chismes, incluso más panes (¿cuántos panes habían?), cubiertos más elegantes y tías y tíos geniales y más jóvenes. Todavía recuerdo el Día de Acción de Gracias en el que me senté en la mesa de adultos por primera vez cuando era adolescente. Fue increíble.
Donde te sientas a comer, en una sala de cine, en un avión, prácticamente en cualquier lugar, importa a nivel profundo. Jesús observó esto en nuestra lectura del Evangelio de hoy mientras observaba a los invitados elegir sus asientos. En tiempos de Jesús, y de manera similar incluso en nuestro tiempo, la proximidad al anfitrión en una comida designaba una posición superior en relación con los demás sentados más lejos. Piense especialmente en las bodas, donde los asientos a menudo son algo cuidadosamente orquestado. El lugar donde te sientas es importante, ya que sea para ti o para los que te rodean.
Me hace preguntarme dónde estaba sentado Jesús en esta mesa. ¿Estaba en el lugar del invitado de honor o en algún lugar más abajo en la mesa? Me pregunto cómo se sintió el anfitrión acerca del discurso de Jesús. ¿Crees que tal vez quería reconsiderar dónde estaban sentadas ciertas personas? También me hace preguntarme dónde se sentaría Jesús en mi propia casa. ¿Dónde se "sienta" Él en mi vida? ¿Le he dado el lugar de honor o lo he reemplazado con algo menos que digno de ese alto estatus?
Parece casi una tontería imaginarse pidiéndole a Jesús que se haga a un lado a favor de algo de dinero extra, una promoción en el trabajo, una lista de verificación completa o la alabanza de los demás. Pero esto es exactamente lo que hacemos cuando no le damos a Jesús el lugar que le corresponde como el centro de nuestras vidas. Jesús es el modelo perfecto de humildad, tanto en esta comida como en cada uno de nuestros corazones. No se abre camino a empujones, ni insiste en que le demos lo que es suyo por derecho. Espera pacientemente que lo invitemos a sentarse a nuestro lado.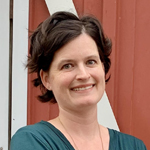 Kate Taliaferro is an Air Force wife and mother. She is blessed to be able to homeschool, bake bread and fold endless piles of laundry. When not planning a school day, writing a blog post or cooking pasta, Kate can be found curled up with a book or working with some kind of fiber craft. Kate blogs at DailyGraces.net.
Feature Image Credit: Agung Pandit Wiguna, www.pexels.com/photo/photo-of-table-setting-during-daytime-2788492/