It is no secret that we live in trying times. How could things like this happen in our world and our country and at such a fast pace? We wake up in the morning hoping that God will snap his finger and get us back to the good old days, whatever that means. The media is doing us dirt! No good news coming from them. Paul, in the above reading, was suffering in the same way. He also had the "pleasure" of being in chains. Paul reminded himself that he only wanted to say things that are in the will of God. We should strive to do the same.
Paul gives us a teaching on how to cope and act in this battle with principalities, powers, world rulers, the present darkness and evil spirits. It sounds like we are in a war, a spiritual battle, and we are! Paul is teaching us the spiritual way of combating these negative arrows that come our way. Paul talks about putting on the armor of God. So how do we put on this armor to protect us from spiritual warfare? We use our faith in God to help us pray. This armor is not something we can hold in our hands. Paul says to hold our ground and to stand fast with our loins girded in truth, clothed with righteousness as a breastplate, and our feet shod in readiness to speak the gospel of peace, the Good News. He tells us to hold our faith as a shield to quench the flaming arrows of the evil one. 
Who is this evil one? He has several names: The devil, Lucifer, and Satan. My spiritual director refuses to call him by one of those names because he says he does not deserve a name. He calls him the unholy spirit. Very apropos I would say! Paul instructs us to wear a breastplate to deflect the flaming arrows coming from the dark side. He also encourages us to cover parts of our bodies that may be vulnerable to his attack. You may have thwarted off an attack in the past and feel pretty good about it. However, that is not the end of it as he will keep searching for a weak spot to enter in and lie to you, just like he did with Adam and Eve. We must double up and be ready for those flaming arrows. The armor may be invisible but it is not to God. Let us pray for protection before it happens. 
Paul tells us in another place that the word of God is "the sword of the Spirit". The better we know Scripture, the better we can fight the battle, just like Jesus did in the desert when the devil took Him there to be tempted.
God is faithful! He will give us the tools we need to win!
Serving With Joy!     
---
No es ningún secreto que vivimos en tiempos difíciles. ¿Cómo es posible que cosas así sucedan en nuestro mundo y nuestro país y a un ritmo tan acelerado? Nos levantamos por la mañana con la esperanza de que Dios chasquee el dedo y nos devuelva a los viejos tiempos. ¡Los medios de comunicación nos hacen daño! No vienen buenas noticias de ellos. Pablo, en la lectura anterior, estaba sufriendo de la misma manera. También tuvo el "placer" de estar encadenado. Pablo se recordó a sí mismo que solo quería decir cosas que están dentro de la voluntad de Dios. Debemos esforzarnos por hacer lo mismo.
Pablo nos da una enseñanza de cómo sobrellevar y actuar en esta batalla con principados, potestades, gobernantes del mundo, las tinieblas presentes y los malos espíritus. Parece que estamos en una guerra, una batalla espiritual, ¡y lo estamos! Pablo nos está enseñando la forma espiritual de combatir estas flechas negativas que se nos presentan. Pablo habla de ponerse la armadura de Dios. Entonces, ¿cómo nos ponemos esta armadura para protegernos de la guerra espiritual? Usamos nuestra fe en Dios para ayudarnos a orar. Esta armadura no es algo que podamos sostener en nuestras manos. Pablo dice que nos mantengamos firmes con nuestros lomos ceñidos en la verdad, vestidos con justicia como una coraza, y nuestros pies calzados en disposición para proclamar el evangelio de la paz, la Buena Nueva. Él nos dice que mantengamos nuestra fe como un escudo para apagar las flechas de fuego del maligno.
¿Quién es este malvado? Tiene varios nombres: El diablo, Lucifer y Satanás. Mi director espiritual se niega a llamarlo por uno de esos nombres porque dice que no lo merece. Él lo llama el espíritu impío. ¡Muy apropiado diría yo! Pablo nos instruye a usar una coraza para desviar las flechas de fuego que vienen del lado oscuro. También nos anima a cubrir partes de nuestro cuerpo que pueden ser vulnerables a su ataque. Es posible que haya frustrado un ataque en el pasado y se sienta bastante bien al respecto. Sin embargo, ese no es el final, ya que seguirá buscando un punto débil para entrar y mentirte, tal como lo hizo con Adán y Eva. Debemos doblarnos y estar listos para esas flechas llameantes. La armadura puede ser invisible pero no lo es para Dios. Oremos por protección antes de que suceda.
Pablo nos dice en otro lugar que la palabra de Dios es "la espada del Espíritu". Cuanto mejor conozcamos las Escrituras, mejor podremos pelear la batalla, tal como lo hizo Jesús en el desierto cuando el diablo lo llevó allí para ser tentado.
¡Dios es fiel! ¡Nos dará las herramientas que necesitamos para ganar!
¡Sirviendo Con Alegría!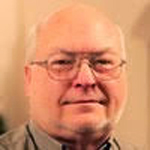 Deacon Dan Schneider is a retired general manager of industrial distributors. He and his wife Vicki have been married for over 50 years. They are the parents of eight children and thirty grandchildren. He has a degree in Family Life Education from Spring Arbor University. He was ordained a Permanent Deacon in 2002.  He has a passion for working with engaged and married couples and his main ministry has been preparing couples for marriage.
Featured Image Credit: Andriy Boechko, unsplash.com/photos/EP6zWQ6RbAI