Coasting through life can be such a temptation! Modern conveniences make it even easier: I can donate to my son's school by shopping online using the coupon code my computer saved. I can video call into meetings and half-listen while sitting at home in my pajamas. I can get credit for being involved without really doing anything, and my head and heart can be somewhere else.
God, in His wisdom, does not let us coast into eternal life. It's not enough to just be an adjacent bystander to the kingdom, we must be an active participant in the kingdom. Sometimes that means being uncomfortable, entering through a narrow gate instead of a wide, easy one. Sometimes it means considering others' needs over our own, as Paul describes in the First Reading. Either way, we need to be committed to actively striving to do God's will, not just expecting to be saved by association.
Of course, we cannot "earn" our salvation through our actions. Even the best of us is not worthy; we are all saved by God's grace. At the same time, God is clearly telling us that we need to actively cooperate with His grace. After all, how can we love God with all our heart and mind when all that we give Him is some kind of half-hearted, absent-minded presence? 
May God give us the strength to rise to His call.
---
Pasar por la vida a medias puede ser una gran tentación! Las comodidades modernas lo hacen aún más fácil: puedo donar a la escuela de mi hijo comprando en línea usando el código de cupón que tengo guardado en mi computadora. Puedo hacer videollamadas en reuniones y escuchar a medias mientras estoy sentado en casa en pijama. Me pueden aplaudir por estar involucrado sin realmente hacer nada, y mi cabeza y mi corazón pueden estar en otra parte.
Dios, en Su sabiduría, no nos permite entrar pasivamente a la vida eterna. No es suficiente ser un espectador adyacente al reino, debemos ser un participante activo en el reino. A veces eso significa sentirse incómodo, entrar por una puerta estrecha en lugar de una ancha y fácil. A veces significa considerar las necesidades de los demás por encima de las nuestras, como describe Pablo en la Primera Lectura. De cualquier manera, debemos comprometernos a esforzarnos activamente para hacer la voluntad de Dios, no solo esperando ser salvos por asociación.
Por supuesto, no podemos "ganar" nuestra salvación a través de nuestras acciones. Incluso el mejor de nosotros no es digno; todos somos salvos por la gracia de Dios. Al mismo tiempo, Dios nos dice claramente que debemos cooperar activamente con Su gracia. Después de todo, ¿cómo podemos amar a Dios con todo nuestro corazón y mente cuando todo lo que le damos es una especie de presencia distraída y poco entusiasta?
Que Dios nos dé la fuerza para estar a la altura de su llamado.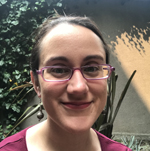 J.M. Pallas has had a lifelong love of Scriptures. When she is not busy with her vocation as a wife and mother to her "1 Samuel 1" son, or her vocation as a public health educator, you may find her at her parish women's bible study, affectionately known as "The Bible Chicks."
Feature Image Credit: Argus398, pixabay.com/photos/gate-leaves-fence-country-entrance-396701/