Being denied before the angels of God, being unforgiven – these are serious matters.
Jesus tells his disciples that those who deny him before others will be denied before the angels of God; the one who blasphemes against the Holy Spirit will not be forgiven.
Given the infinite merits of the Redemption and the infinite mercy of God, the idea of an "unforgivable sin" has been discussed and debated since the early Church. Is there actually a sin that we can commit that cannot be forgiven? The answer is no… and yes.
There is no act that we can commit, no word we can say, no thought we can think, that God will refuse to forgive in this life. We cannot "out-sin" God's mercy and love. Nothing we can do will stop God from loving and pursuing us with His merciful love; He will not close His Heart against us or refuse to forgive us or turn away from us. Ever.
But. WE can refuse this love and mercy. WE can refuse to acknowledge our errors and selfish choices and refuse to ask for or accept God's forgiveness. In short, WE can be obstinate and stubborn and turn our backs on HIM.
St. Thomas Aquinas refers to St. Augustine's explanation that blasphemy is one sin against the Holy Ghost, and that "those who despair of pardon for their sins, or who without merits presume on God's mercy, (and)… He who dies in a state of obstinacy is guilty of the sin against the Holy Ghost." (For avid Thomists, this is ST, Second Part of the Second Part, Question 14).
So it is despair, presumption, and obstinance that are the problem. The key here is whether we are OPEN to or CLOSED against grace, whether we trust in the Lord wholly, whether our hearts are hardened against the Holy Spirit's word and work in us. This is our part in the life of the spirit: to continually hold ourselves before the Lord and open ourselves fully to all He longs to pour into us, all He longs to do in us, so that we remain malleable and our hearts are gradually enlarged to hold all of it. Every time we choose ourselves over others or over God's will, we are darkened and hardened a little more. On the other hand, every time we kneel to pray, ask for forgiveness, and go to Confession, we are softened and given a little more light to walk in His ways.
Everything comes from God. For our part, we must prepare ourselves and hold ourselves in readiness to receive His gifts of forgiveness, love, and peace. We must open ourselves and offer ourselves to Him and listen to His Word.
"If today you hear His voice, harden not your hearts" (Hebrews 3:7-8).
---
Ser negado ante los ángeles de Dios, no ser perdonado, estos son asuntos serios.
Jesús les dice a sus discípulos que aquellos que lo niegan ante los demás, serán negados ante los ángeles de Dios; el que blasfema contra el Espíritu Santo no será perdonado.
Dados los méritos infinitos de la Redención y la misericordia infinita de Dios, la idea de un "pecado imperdonable" ha sido discutida y debatida desde la Iglesia primitiva. ¿Existe realmente un pecado que podamos cometer que no pueda ser perdonado? La respuesta es no… y sí.
No hay acto que podamos cometer, ninguna palabra que podamos decir, ningún pensamiento que podamos pensar, que Dios se negará a perdonar en esta vida. No podemos "superar en pecado" la misericordia y el amor de Dios. Nada de lo que podamos hacer impedirá que Dios nos ame y nos busque con su amor misericordioso; Él no cerrará Su Corazón contra nosotros ni se negará a perdonarnos ni se alejará de nosotros. Nunca.
Pero, NOSOTROS sí podemos rechazar este amor y misericordia. NOSOTROS podemos negarnos a reconocer nuestros errores y elecciones egoístas y negarnos a pedir o aceptar el perdón de Dios. En resumen, NOSOTROS podemos ser obstinados y tercos y darle la espalda a ÉL.
Santo Tomás de Aquino se refiere a la explicación de San Agustín de que la blasfemia es un pecado contra el Espíritu Santo, y que "aquellos que desesperan del perdón de sus pecados, o que sin méritos presumen de la misericordia de Dios, (y)… El que muere en una estado de obstinación es culpable del pecado contra el Espíritu Santo."
Así que el problema es la desesperación, la presunción y la obstinación. La clave aquí es si estamos ABIERTOS o CERRADOS a la gracia, si confiamos plenamente en el Señor, si nuestros corazones están endurecidos contra la palabra y la obra del Espíritu Santo en nosotros. Esta es nuestra parte en la vida del espíritu: mantenernos continuamente ante el Señor y abrirnos plenamente a todo lo que Él anhela derramar en nosotros, todo lo que Él anhela hacer en nosotros, para que permanezcamos maleables y nuestro corazón se ensanche gradualmente, para sostenerlo todo. Cada vez que elegimos a nosotros mismos sobre los demás o sobre la voluntad de Dios, nos oscurecemos y endurecemos un poco más. Por otro lado, cada vez que nos arrodillamos para orar, pedir perdón y confesarnos, somos suavizados y se nos da un poco más de luz para caminar en sus caminos.
Todo viene de Dios. Por nuestra parte, debemos prepararnos y mantenernos listos para recibir sus dones de perdón, amor y paz. Debemos abrirnos y ofrecernos a Él y escuchar Su Palabra.
"Si ustedes oyen hoy su voz, no endurezcan el corazón" (Hebreos 3:7-8).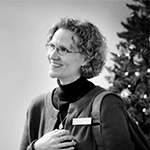 Kathryn Mulderink, MA, is married to Robert, Station Manager for Holy Family Radio. Together they have seven children (including Father Rob), and four grandchildren. She is President of the local community of Secular Discalced Carmelites and has published five books and many articles. Over the last 30 years, she has worked as a teacher, headmistress, catechist, Pastoral Associate, and DRE, and as a writer and voice talent for Catholic Radio. Currently, she serves the Church by writing and speaking, and by collaborating with various parishes and to lead others to encounter Christ and engage their faith. Her website is www.KathrynTherese.com
Feature Image Credit: Jose Fontano, unsplash.com/photos/pZld9PiPDno