I think we human beings don't always acknowledge the effects that everyday life has on us. Some of those effects we're good at recognizing: I'm exhausted, I'm frustrated, I'm pleasantly surprised. Other things, maybe we realize, but we don't want to admit: I forgot. Didn't I ask you to take out the garbage? What did I do with the shopping list? Your party was tonight?
When we tell our kids to do something or to remember something, does it frustrate or upset us when they forget? Yet we're out here in the world forgetting all kinds of things. Let's face it, they're just like us. The trouble is, this forgetting, letting life get in the way, extends far beyond such mundane things as a full trash can. We also forget the big stuff — the really big stuff. Today's readings discuss that really big stuff.
Paul shares with the Ephesians, and us, the biggest stuff of all. Just before our reading starts, Paul reminds his readers that Jesus suffered and died for us. He ransomed our very lives with His life. Then our reading kicks in: not only that, we were also chosen by God, in Christ, to be His people. Then, in our baptism, he gave us the Holy Spirit. Paul calls that glorious gift to help us in our faith a mere down payment. Stick it out, folks, stay faithful, and it's going to be unimaginably better.
Jesus also has something to remind us: God loved us and always loves us, but we have to uphold our part of the bargain, too. Don't go acting the pious follower, like a Pharisee, while doing something else when out of the public eye. Do we forget God's power along with his love? If we're doing something in private, God knows. If we're saying something in secret, God knows.
And despite knowing every one of us is going to die, we act like not us, or at least not anytime soon. Other times, we don't think about death because it frightens us. Don't be afraid of death, Jesus reminds us, because that's hardly the worst of our troubles. Losing our immortal soul, losing communion with God in heaven, that's what we need to be concerned about.
And another thing Jesus has to remind us about: We matter to God. He knows the number of hairs on our heads. He loves us that much! We are His people because God wants us to be His people. He forgives us our sins because He wants us to be in right relationship with Him. We have to do our part, with our faith and love and service, but the promise is there before us.
God loves us. God chooses us. God wants us to be with Him. What else matters? But how often do we forget how important that is? Let's spend today keeping that in focus, keeping it foremost in our minds. And acting accordingly. And also, don't forget to take out the garbage.
---
Creo que como seres humanos no siempre reconocemos los efectos que la vida cotidiana tiene sobre nosotros. Algunos de esos efectos los reconocemos bien: estoy agotado, estoy frustrado, estoy gratamente sorprendido. Otras cosas, tal vez nos demos cuenta, pero no queremos admitir: se me olvidó. ¿No te pedí que sacaras la basura? ¿Qué hice con la lista de compras? ¿Tu fiesta fue esta noche?
Cuando les decimos a nuestros hijos que hagan algo o que recuerden algo, ¿nos frustra o nos molesta que se les olvide? Sin embargo, estamos aquí en el mundo olvidando todo tipo de cosas. Seamos realistas, son como nosotros. El problema es que este olvido, dejar que la vida se interponga en el camino, se extiende mucho más allá de cosas tan mundanas como un bote de basura lleno. También nos olvidamos de las cosas importantes, las cosas realmente importantes. Las lecturas de hoy discuten cosas realmente importantes.
Pablo comparte con los Efesios, y con nosotros, lo más importante de todo. Justo antes de que comience esta lectura, Pablo les recuerda a sus lectores que Jesús sufrió y murió por nosotros. Él rescató nuestras propias vidas con la Suya. Después entra en acción la lectura de hoy: no solo eso, también fuimos escogidos por Dios, en Cristo, para ser Su pueblo. Luego, en nuestro bautismo, nos dio el Espíritu Santo. Pablo llama a ese regalo glorioso para ayudarnos en nuestra fe un mero pago inicial. Manténganse firmes, amigos, manténganse fieles, y será inimaginablemente mejor.
Jesús también tiene algo que recordarnos: Dios nos amó y siempre nos ama, pero también tenemos que cumplir con nuestra parte del trato. No actúes como un seguidor piadoso, como un fariseo, mientras haces otra cosa cuando no estás a la vista del público. ¿Olvidamos el poder de Dios junto con su amor? Si estamos haciendo algo en privado, Dios lo sabe. Si estamos diciendo algo en secreto, Dios lo sabe.
Y a pesar de saber que todos vamos a morir, actuamos como si no fuéramos nosotros, o al menos no pronto. Otras veces, no pensamos en la muerte porque nos asusta. No le temas a la muerte, nos recuerda Jesús, porque ese no es el peor de nuestros problemas. Perder nuestra alma inmortal, perder la comunión con Dios en el cielo, eso es lo que nos debe preocupar.
Y otra cosa que Jesús tiene que recordarnos: Le importamos a Dios. Él conoce el número de cabellos en nuestras cabezas. ¡Él nos ama tanto! Somos Su pueblo porque Dios quiere que seamos Su pueblo. Él nos perdona nuestros pecados porque quiere que tengamos una relación correcta con Él. Tenemos que hacer nuestra parte, con nuestra fe, amor y servicio, pero la promesa está ante nosotros.
Dios nos ama. Dios nos elige. Dios quiere que estemos con Él. ¿Qué más importa? Pero, ¿con qué frecuencia olvidamos lo importante que es eso? Dediquemos el día a mantener eso enfocado, manteniéndolo en primer lugar en nuestras mentes. Y actuando en consecuencia. Y por si acaso, no te olvides de sacar la basura.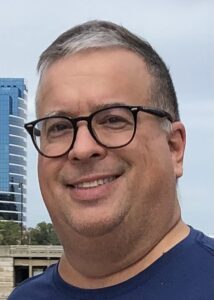 Mike Karpus is a regular guy. He grew up in Michigan's Upper Peninsula, graduated from Michigan State University and works as an editor. He is married to a Catholic school principal, raised two daughters who became Catholic school teachers at points in their careers, and now relishes his two grandchildren, including the 3-year-old who teaches him what the colors of Father's chasubles mean. He has served on a Catholic School board, a pastoral council and a parish stewardship committee. He currently is a lector at Mass, a Knight of Columbus, Adult Faith Formation Committee member and a board member of the local Habitat for Humanity organization. But mostly he's a regular guy.
Feature Image Credit: Mateus Campos Felipe, unsplash.com/photos/NbpxnOo0X-g