There is a scene in a popular TV show where two scientists are discussing what makes up a human person. They go through all the elements that a body is made of and the percentages that we have of each. Most of our bodies are made of a mix of just six elements: Oxygen, hydrogen, nitrogen, carbon, calcium, and phosphorus. Pretty remarkable way to describe a human being, huh? But I bring this up because I think oftentimes we treat our own bodies this way. As if they are just masks that we can change at will, or abuse. After all, they are just elements mixed together at random right? What's the harm?
The scene in the show gets them to the end of a list of elements but they are still missing some percentage of unaccounted for elements. They determine that it must be the soul. As Catholics, we believe we are body and soul composites that have been infused with the life and breath of God. We even hear in Genesis that we are made in the image and likeness of God. More than just a cute little phrase to hand out on prayer cards, this means something. It means that matter (our bodies), matters.
Our body and our soul together is what makes us a human being, totally unique and perfect in the plan of God. The Catechism tells us then that, "Man may not despise his bodily life. Rather he is obliged to regard his body as good and to hold it in honor since God has created it and will raise it up on the last day."  CCC 364
Matter, matters. God, as our Creator, knows that we are both physical and spiritual beings, and he loves us so much that this purely spiritual being took on flesh. God became man. That is significant. The moment that the second person of the Trinity took on flesh, our bodies were raised to a higher level than ever. We now share the same human DNA with God.
Now, it's not only that God created us and became man for us, he also wanted to stay with us even after he was taken back into heaven. We receive his grace and love in a tangible way through the sacraments. And notice, every sacrament requires matter. Baptism requires water and the Eucharist requires bread and wine. In the First Reading today we have a foreshadowing of baptism where Naaman washes and is made clean of leprosy. His body is made new. And we know that in baptism we are made new as well. Matter, matters.
The Catechism sums this up beautifully by saying, "The flesh is the hinge of salvation. We believe in God who is the creator of the flesh; we believe in the word made flesh in order to redeem the flesh, we believe in the resurrection of the flesh, the fulfillment of both the creation and redemption of the flesh." CCC 1015
God loves your body. God loves you. Let's take a few moments today to thank God for making us in his image and likeness, for giving us his sacraments so that we might partake in his love, and for the future hope of one day reaching heaven and being happy with him and all the saints forever. Just a bunch of humans walking around with glorified bodies praising God and living their best life. Sounds pretty good to me.
From all of us here at Diocesan, God bless!
---
Hay una escena en un popular programa de televisión en la que dos científicos discuten qué constituye una persona humana. Pasan por todos los elementos que componen un cuerpo y los porcentajes que tenemos de cada uno. La mayoría de nuestros cuerpos están hechos de una mezcla de solo seis elementos: oxígeno, hidrógeno, nitrógeno, carbono, calcio y fósforo. Una forma bastante notable de describir a un ser humano, ¿verdad? Pero menciono esto porque creo que a menudo tratamos a nuestros propios cuerpos de esta manera. Como si fueran solo máscaras que podemos cambiar a nuestro antojo o abusar de ellos. Después de todo, son solo elementos mezclados al azar, ¿verdad? ¿Cuál es el daño?
La escena en el programa los lleva al final de una lista de elementos, pero todavía les falta un porcentaje de elementos no contabilizados. Determinan que debe ser el alma. Como católicos, creemos que somos compuestos de cuerpo y alma que han sido infundidos con la vida y el aliento de Dios. Incluso escuchamos en Génesis que estamos hechos a imagen y semejanza de Dios. Más que una pequeña frase linda para repartir en las tarjetas de oración, esto significa algo. Significa que la materia (nuestros cuerpos), importa.
Nuestro cuerpo y nuestra alma juntos es lo que nos hace un ser humano, totalmente único y perfecto en el plan de Dios. El Catecismo nos dice entonces que "no es lícito al hombre despreciar la vida corporal, sino que, por el contrario, tiene que considerar su cuerpo bueno y digno de honra, ya que ha sido creado por Dios y que ha de resucitar en el último día". CIC 364
La materia importa. Dios, como nuestro Creador, sabe que somos seres tanto físicos como espirituales, y nos ama tanto que este ser puramente espiritual se hizo carne. Dios se hizo hombre. Eso es significativo. En el momento en que la segunda persona de la Trinidad se hizo carne, nuestros cuerpos se elevaron a un nivel más alto que nunca. Ahora compartimos el mismo ADN humano con Dios.
Ahora bien, no es solo que Dios nos creó y se hizo hombre por nosotros, sino que también quiso quedarse con nosotros incluso después de haber sido llevado de regreso al cielo. Recibimos su gracia y amor de manera tangible a través de los sacramentos. Y si se dan cuenta, cada sacramento requiere materia. El bautismo requiere agua y la Eucaristía requiere pan y vino. En la Primera Lectura de hoy tenemos un presagio del bautismo donde Naamán se lava y queda limpio de lepra. Su cuerpo es hecho nuevo. Y sabemos que en el bautismo también somos hechos nuevos. La materia importa.
El Catecismo resume esto hermosamente al decir: "La carne es soporte de la salvación. Creemos en Dios que es el creador de la carne; creemos en el Verbo hecho carne para rescatar la carne; creemos en la resurrección de la carne, perfección de la creación y de la redención de la carne". CIC 1015
Dios ama tu cuerpo. Dios te ama. Tomemos hoy unos momentos para agradecer a Dios por hacernos a su imagen y semejanza, por darnos sus sacramentos para que participemos de su amor, y por la esperanza futura de llegar un día al cielo y ser felices con él y todos los santos para siempre. Un grupo de humanos caminando con cuerpos glorificados alabando a Dios y viviendo su mejor vida. A mí me suena bastante bien.
De parte de todos nosotros aquí en Diocesan, ¡Dios los bendiga!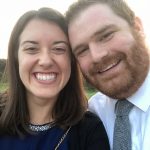 Tommy Shultz is a Business Development Representative for Diocesan. In this role he is committed to bringing the best software to dioceses and parishes while helping them evangelize on the digital continent. Tommy has worked in various diocese and parish roles since his graduation from Franciscan University with a Theology degree. He hopes to use his skills in evangelization, marketing, and communications, to serve the Church and bring the Good News to all. His favorite quote comes from St. John Paul II, who said, "A person is an entity of a sort to which the only proper and adequate way to relate is love."
Feature Image Credit: Josh Applegate, unsplash.com/photos/mjn1LcoU1Cw