When the Gospels are short like today's–only two verses–it always makes me think that the message is really vital to how we live our lives. It's like someone wanted us to be hit with something short so that we could spend our time reflecting on that message. Today's Gospel offers us beautiful words with which we can contemplate the faith of Mary and how we are to imitate her faith in our lives. 
These two verses from Luke can be a bit confusing; the first time I read them I asked myself, "Is Jesus saying that Mary's role as His mother is unimportant?" That is certainly not what He is saying to this woman! St. John Chrysostom, in a reflection on these two verses from Luke says, "In His answer He did not disgrace His mother, but showed that His birth would have profited her nothing had she not been really fruitful in works and faith." Christ is not dismissing nor diminishing the importance of Mary's role as His mother. Rather, He is emphasizing the importance of her faith in her role as mother. In order for her to become the Mother of God, she first had to say yes to the will of God. Before fulfilling her title of mother she fulfilled the words Christ uses to respond to the woman: "Blessed are those who hear the word of God and observe it." Mary heard the word of God and observed it when, after learning that she would bear the Son of God, she responded with "Let it be done unto me according to thy word."
We should look to Mary as a perfect example of faith. It is she who models true blessedness. She embodies perfect and joyful submission to the will of the Father. When God calls us to something that is difficult, do we answer as Mary did? 
When we are struggling to observe the word of God, may we remember Mary and her joyful acceptance of His word. When we hear the word of God, may we joyfully observe it!
---
Cuando los evangelios son cortos como el de hoy, solo dos versículos, siempre me hace pensar que el mensaje es vital para la forma en que vivimos nuestras vidas. Es como si alguien quisiera que nos golpeáramos con algo corto para que pudiéramos pasar nuestro tiempo reflexionando sobre ese mensaje. El Evangelio de hoy nos ofrece hermosas palabras con las que podemos contemplar la fe de María y cómo debemos imitar su fe en nuestra vida.
Estos dos versículos de Lucas pueden ser un poco confusos; la primera vez que los leí me pregunté: "¿Está diciendo Jesús que el papel de María como Su madre no es importante?" ¡Ciertamente eso no es lo que Él le está diciendo! San Juan Crisóstomo, en una reflexión sobre estos dos versículos de Lucas dice: "En su respuesta no deshonró a su madre, sino que mostró que su nacimiento no le habría aprovechado nada si no hubiera sido realmente fructífera en obras y fe". Cristo no está descartando ni disminuyendo la importancia del papel de María como Su madre. Más bien, está enfatizando la importancia de su fe en su papel como madre. Para que ella se convirtiera en la Madre de Dios, primero tuvo que decir sí a la voluntad de Dios. Antes de cumplir su título de madre, cumplió las palabras con las que Cristo responde a la mujer: "Bienaventurados los que oyen la palabra de Dios y la guardan". María escuchó la palabra de Dios y la observó cuando, después de saber que daría a luz al Hijo de Dios, respondió: "Hágase en mí según tu palabra".
Debemos mirar a María como un ejemplo perfecto de fe. Es ella el modelo de la verdadera bienaventuranza. Ella encarna la sumisión perfecta y gozosa a la voluntad del Padre. Cuando Dios nos llama a algo que es difícil, ¿respondemos como María?
Cuando estemos luchando por observar la palabra de Dios, recordemos a María y su gozosa aceptación de Su palabra. Cuando escuchemos la palabra de Dios, ¡que la observemos con gozo!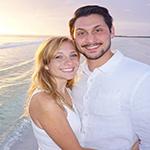 Dakota lives in Denver, CO with her husband, Ralph, and their two sons, Alfie & Theophilus. She is the Dean of Enrollment Management for Bishop Machebeuf High School where her husband also teaches. You can find Dakota at the zoo or a brewery with her family or with her nose in a book at home. For more of Dakota's writing check out https://dakotaleonard16.blogspot.com/
Feature Image Credit: Manuel Asturias, cathopic.com/photo/11955-the-sorrow-of-mary