"And fear nothing, dear soul, whoever you are; the greater the sinner, the greater his right to Your mercy, O Lord." 
Today is, quite possibly, one of my favorite feast days – the Feast of Saint Faustina Kowalska, who said the beautiful quote above (one of my favorites). Why is St. Faustina so amazing and why do I love her feast day so much? It's quite simple actually: mercy. 
This humble Polish nun became one of the greatest messengers of God's mercy and especially for our modern times. The news of God's great mercy is nothing new to us – it's a grace that goes all the way back to the beginning pages of Scripture, when Adam and Eve fell in the Garden of Eden. In His mercy and from that very moment, God planned to send His Son to save us from our sins and open up the gates of heaven and eternal life to us. 
However, we hear more about Divine Mercy now thanks to St. Faustina, as she wrote down the many revelations she received on this topic from the Lord. It is through her that we have the Image of Divine Mercy, the beautiful devotion of the Divine Mercy Chaplet and so much more. 
When I was a high school student, our youth group had a devotion to Divine Mercy. As a retreat team, we'd consecrate ourselves and our retreat weekend to Divine Mercy, beginning every team meeting with the chaplet. That's stuck with me for the past decade-plus. Since becoming a youth minister myself, I've taken the opportunity to share about the devotion and teach about St. Faustina several times now. 
Why was Divine Mercy so significant to me back then and still so impactful to me right now? Because it serves as a simple and beautiful reminder to me that, no matter how far away I may stray from God as a result of sin and my own failings, He still loves me and welcomes me back with open arms, every single time. Not only is it a message of mercy and love but it is one of hope for all of us. 
In honor of Faustina's feast day today, I encourage you to take a moment and examine your conscience. Have you fallen short lately? Are you in need of God's mercy? If so, take advantage of the Sacrament of Reconciliation. He is waiting for you, to shower you with His love and mercy. 
---
"Y no temas nada, querida alma, quienquiera que seas; mientras mas grave el pecador, más derecho tiene a Tu misericordia, oh Señor."
Hoy es, muy posiblemente, uno de mis días de fiesta favoritos: la fiesta de Santa Faustina Kowalska, quien dijo la hermosa frase anterior (una de mis favoritas). ¿Por qué Santa Faustina es tan asombrosa y por qué me encanta tanto su fiesta? Es bastante simple: por la misericordia.
Esta humilde monja polaca se convirtió en una de las más grandes mensajeras de la misericordia de Dios y especialmente para nuestros tiempos modernos. La noticia de la gran misericordia de Dios no es nada nuevo para nosotros: es una gracia que se remonta a las primeras páginas de las Escrituras, cuando Adán y Eva cayeron en el Jardín del Edén. En Su misericordia y desde ese mismo momento, Dios planeó enviar a Su Hijo para salvarnos de nuestros pecados y abrirnos las puertas del cielo y la vida eterna.
Sin embargo, ahora escuchamos más acerca de la Divina Misericordia gracias a Santa Faustina, ya que ella escribió las muchas revelaciones que recibió sobre este tema del Señor. Es a través de ella que tenemos la Imagen de la Divina Misericordia, la hermosa devoción de la Coronilla de la Divina Misericordia y mucho más.
Cuando yo era estudiante de secundaria, nuestro grupo de jóvenes tenía una devoción a la Divina Misericordia. Como equipo de retiro, nos consagraramos a nosotros mismos y nuestro fin de semana de retiro a la Divina Misericordia, comenzando cada reunión del equipo con la coronilla. Eso se quedó conmigo durante la última década y más. Desde que me convertí en ministro de jóvenes, he aprovechado la oportunidad para compartir sobre la devoción y enseñar sobre Santa Faustina varias veces.
¿Por qué la Divina Misericordia fue tan importante para mí en ese entonces y todavía me impacta tanto ahora? Porque me sirve como un recordatorio simple y hermoso de que, no importa cuán lejos me aleje de Dios como resultado del pecado y mis propias fallas, Él todavía me ama y me recibe con los brazos abiertos, cada vez. No sólo es un mensaje de misericordia y amor, sino también de esperanza para todos nosotros.
En honor a la fiesta de Faustina hoy, los animo a que tomen un momento y hagan un examen de conciencia. ¿Te has quedado corto últimamente? ¿Necesitas de la misericordia de Dios? Si es así, aprovecha el Sacramento de la Reconciliación. Él te está esperando para colmarte de su amor y misericordia.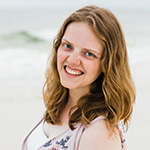 Erin is a Cleveland native and graduate of Franciscan University of Steubenville. She is passionate about the Lord Jesus, all things college sports and telling stories and she is blessed enough to get paid for all three of her passions as a full-time youth minister and a freelance sports writer.
Feature Image Credit: Angie Menes, cathopic.com/photo/13303-la-misericordia-de-dios