If these readings tell us anything, it's that God takes marriage very seriously. He espouses Israel to Himself, and intends to keep His end of the covenant even when she has broken hers. Of course, He is not numb to her infidelity, and promises her immense punishment for her grave sin: "I will deal with you for what you did; you despised an oath by breaking a covenant" (Ezek. 16:59). He does plan to "renew His vows" by re-establishing the covenant, but He expresses this desire sternly: "I will set up an everlasting covenant with you, that you may remember and be covered with confusion, and that you may be utterly silenced for shame when I pardon you for all you have done" (Ezek. 16:60, 63).
If you can handle some explicit language, I encourage you to read the whole of Ezekiel chapter 16. Our First Reading gives us only snippets, and the description of Israel's betrayal, punishment, and redemption is stark. It's important to remember that these are God's own words, even though spoken through the mouth of His prophet. That God would call His people a harlot (prostitute) is shocking. He is describing His people as so depraved in their idolatry with other nations that they are like a serial prostitute who pays others to be defiled.
This extended metaphor between idolatry and adultery is striking. Notice that the message here is, "Your idolatry is so shameful and offensive to me because you are acting like a flagrant, serial prostitute." It is not, as we might expect, "Your adultery is so shameful and offensive to me because you are acting like a flagrant, serial idolater." Marriage is being used to drive home the gravity of the idolatry, not the other way around. Clearly God sees marriage as a sacred covenant.
In the Gospel, Jesus tells the Pharisees that marriage was never intended for divorce; God intended it to be a one-flesh union for the whole of life, a profound image of the communion of the Holy Trinity. Categorically: "From the beginning it was not so" (Matt. 19:8). Marriage is so venerable that only a few are granted the grace to renounce it for a higher vocation: "Not all can accept this word, but only those to whom it is granted" (Matt. 19:11). Continence for the Kingdom is so great precisely because marriage is so great (not to mention its other sanctifying aspects).
Jesus speaks these words after raising marriage to the dignity of a sacrament at the Wedding Feast of Cana, but Our Lord spoke in a similar way through Ezekiel, well before there was such a thing as sacramental marriage. The standard is what God intended in "the beginning," before Original Sin, characterized by a clear vision of the other as a person meant for total self-gift, a mirror to the Trinity.
If God takes marriage so seriously, we can be assured that He intends those in the married state, and those who renounce it for an even higher calling, to request and receive profound graces. In a world which believes that marriage is simply an association of pleasure between two people who have strong feelings for each other, we must live the truth: marriage is a one-flesh union for the whole of life, meant to populate the world with saints and sanctify the spouses in the process, who must serve as a mirror to the life of the Trinity to sanctify the temporal order. God takes marriage seriously, and so should we.
---
Si estas lecturas nos dicen algo, es que Dios toma el matrimonio muy en serio. Él desposa a Israel consigo mismo, y tiene la intención de cumplir Su parte del pacto incluso cuando ella haya roto la suya. Por supuesto, Él no es insensible a su infidelidad, y le promete un inmenso castigo por su grave pecado: "Yo te trataré por lo que hiciste; despreciaste el juramento quebrantando el pacto" (Ezequiel 16:59). Él planea "renovar Sus votos" restableciendo el pacto, pero expresa este deseo con severidad: "Y estableceré con vosotros un pacto perpetuo, para que se acuerden y se cubren de confusión, y para que sean completamente silenciado de vergüenza cuando te perdone por todo lo que has hecho" (Ezequiel 16:60, 63).
Si puede manejar un lenguaje explícito, lo animo a que lea todo el capítulo 16 de Ezequiel. Nuestra Primera Lectura nos brinda solo fragmentos, y la descripción de la traición, el castigo y la redención de Israel es clara. Es importante recordar que estas son las propias palabras de Dios, aunque dichas por boca de Su profeta. Que Dios llame ramera (prostituta) a su pueblo es impactante. Él está describiendo a Su pueblo como tan depravado en su idolatría con otras naciones que son como una prostituta en serie que paga a otros para que sean profanados.
Llama la atención esta metáfora extendida entre la idolatría y el adulterio. Note que el mensaje aquí es, "Tu idolatría es tan vergonzosa y ofensiva para mí porque estás actuando como una prostituta flagrante en serie". No es, como podríamos esperar, "Tu adulterio es tan vergonzoso y ofensivo para mí porque estás actuando como un flagrante idólatra en serie". El matrimonio se está utilizando para recalcar la gravedad de la idolatría, y no al revés. Claramente Dios ve el matrimonio como un pacto sagrado.
En el Evangelio, Jesús les dice a los fariseos que el matrimonio nunca fue pensado para el divorcio; Dios quiso que fuera una unión en una sola carne para toda la vida, imagen profunda de la comunión de la Santísima Trinidad. Categóricamente: "Al principio no fue así" (Mateo 19:8). El matrimonio es tan venerable que sólo a unos pocos se les concede la gracia de renunciarlo por una vocación superior: "No todos pueden aceptar esta palabra, sino sólo aquellos a quienes se les concede" (Mt 19,11). La castidad por el Reino es tan grande precisamente porque el matrimonio es tan grande (sin mencionar sus otros aspectos santificadores).
Jesús pronuncia estas palabras después de elevar el matrimonio a la dignidad de sacramento en las Bodas de Caná, pero Nuestro Señor habló de manera similar a través de Ezequiel, mucho antes de que existiera el matrimonio sacramental. La norma es lo que Dios pretendía en "el principio", antes del Pecado Original, caracterizado por una clara visión del otro como persona destinada a la entrega total, espejo de la Trinidad.
Si Dios toma el matrimonio tan en serio, podemos estar seguros de que Él tiene la intención de que quienes están casados ​​y quienes lo renuncian por una vocación aún más elevada, soliciten y reciban gracias profundas. En un mundo que cree que el matrimonio es simplemente una asociación de placer entre dos personas que tienen fuertes sentimientos el uno por el otro, debemos vivir la verdad: el matrimonio es una unión de una sola carne para toda la vida, destinada a poblar el mundo de santos y santificar a los esposos en el proceso, quienes deben servir de espejo a la vida de la Trinidad para santificar al orden temporal. Dios toma el matrimonio en serio, y nosotros  deberíamos hacerlo también.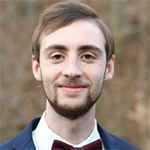 David Dashiell is a freelance author and editor in Nashville, Tennessee. He has a master's degree in theology from Franciscan University, and is the editor of the anthology Ever Ancient, Ever New: Why Younger Generations Are Embracing Traditional Catholicism.
Feature Image Credit: hopefootage, www.cathopic.com/photo/28013-happiest-girl